Whether you're an independent practitioner, working in academia, the non-profit or the public sector, video creation can take repetitive tasks out of your schedule and leave you more time for one-on-one meetings with clients.
The value of creating videos
Save time and increase efficiency
Improve communication
Boost results for your program
Enhance quality of one-on-one time with clients
Video creation can streamline internal and external messages, ensuring colleagues and clients are clear on the procedures and processes within your organization. Think about the question you get asked most as a career professional. Imagine being asked that question four times a day, by four different clients, five days a week. Now, imagine you pre-empted that question and created a simple video explaining the answer to that question in detail. Your meetings become more productive and less redundant.
Consider, for example, the video that Career Professionals of Canada recently created to help new students register for their first course with CPC. The video helps build student confidence while also reducing redundant administrative work for the organization by pre-empting student questions about registration and setup. When career professionals, clients and/or students are set up for success on day one of the program, this frees up facilitator time from inquiries about technical issues and allows facilitators to instead focus on delivering programming.
---
Don't miss Part II in this series on using video in careers work from Ana Lokotkova: From blah to bold: 5 easy ways to dress up your career videos.
---
You might create a video tutorial to walk clients through the intake process, or what they might expect from their first visit to your workspace, or their first virtual meeting with their assigned career professional. Your content will be tailored to the specific needs of your clients.
It's easier than you think
While it can feel intimidating to get started, creating your first video is not as scary as it may appear. Did you know you can create videos using your computer, cell phone, zoom, PowerPoint and many other free or low-cost resources? And you don't have to appear in the video!
You can create high-quality videos using tools you likely have at your disposal.
1. PowerPoint
In the CPC example above, the video was created using PowerPoint. You simply create your slide presentation and record audio clips on each slide.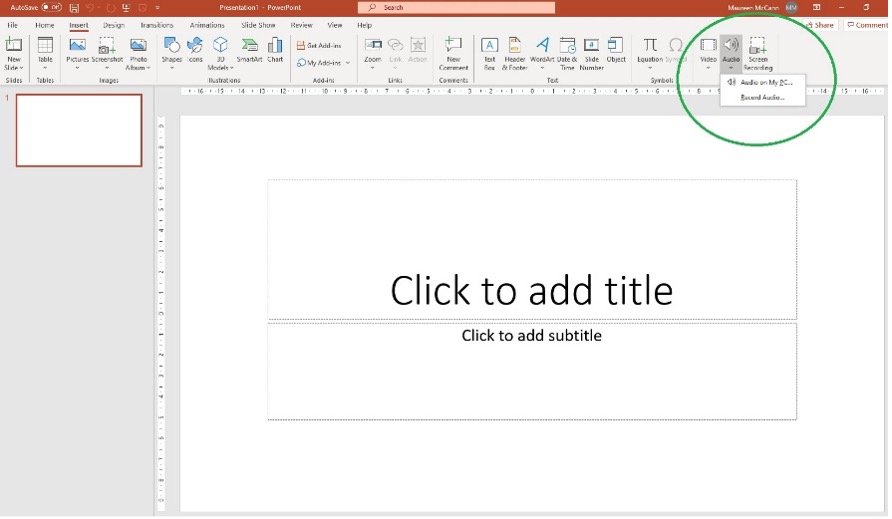 Then, when you play the slideshow, you can record it and create a video file.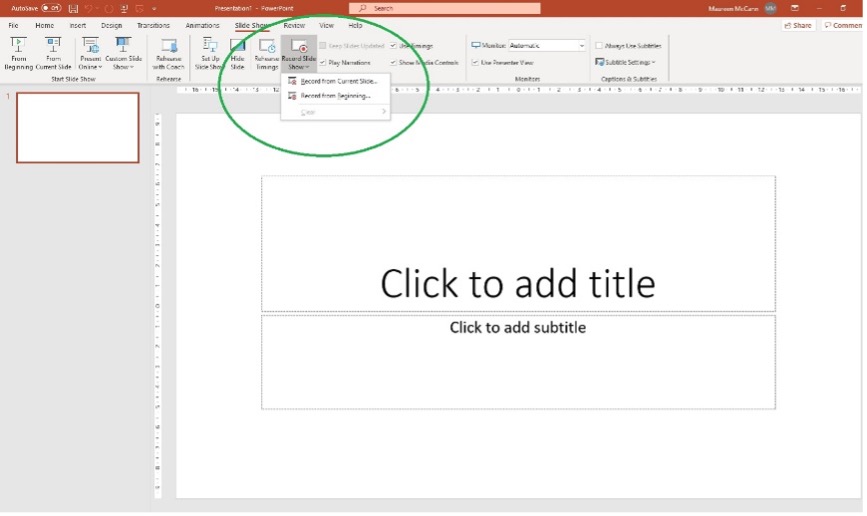 Ta-da! You've created your first video.
2. Lumen5
Another option might be to use Lumen5 to create your first video. Once you've signed up, you can choose to upload a previously written blog post, a script or your own media to begin putting together your video.


You can easily edit the text, add images, even include background music. This is an example of one of the first videos I created using Lumen5.
3. Zoom
Zoom is the video-conferencing tool most organizations turned to at the beginning of the pandemic to connect remotely. If you have ever used Zoom for a video conference or a meeting, you can also use it to create a video recording.
Log in to the platform and host a meeting (with video on). You can invite a friend or record yourself alone. All you need to do is log on and hit the record button. Voila – you're creating your first video. Once done, you simply end your recording and your meeting. You can save your video, edit it and publish it when you're ready.

4. Loom
Loom is a great tool to use, especially when creating "explainer" videos. Executive Resume Writer Virginia Franco used Loom to create this video where she demonstrates how to configure your resume in Word. You'll see Virginia is talking in the bottom left corner of your screen, while she explains the changes she's making to the Word document.
Loom videos are a smart way to give clients advice on their existing resumes when you are unable to do in-person meetings, but also a savvy way to combine your advice with your online activities. You might consider creating Loom videos to train new hires, onboard new clients or record a series of "how to" videos for your organization.
Invest your time in video now. Save time in the long run
Take what you know about your clients and the questions they love to ask, and create a video with the answer. It can be short, sweet and directly to the point. Doing this today will save you time in the future and help to modernize the way you deliver career services. Imagine repurposing your expertise to help more jobseekers with even more great tips, suggestions, advice, resources and tools.
I go into much more detail about the value of using video and how to get started in my 45-minute Cannexus21 presentation with my colleague, Ana Lokotkova. Registered attendees can view our on-demand presentation, Mastering Video: Give Yourself More Time for Clients, for the next year.
Armed with these tools, there's nothing holding you back from creating videos that benefit you, your clients and the organizations where you work. Win-win-win.
---
Learn about career development strategies, resources and virtual events in our free CareerWise Weekly newsletter.
Tags :
career counselling
featured
job skills
podium