As the video format keeps winning more and more viewers' hearts, creating videos is only getting more intimidating.
YouTube and other online platforms have been spoiling us with high-production-value videos for years – and the career development space is no exception. Anyone can create videos these days, but not every video makes the kind of impression originally intended.
This article is the second in a three-part series on using video in career development by Ana Lokotkova and Maureen McCann. Don't miss Part I:
4 tools for beginner video creators
.
Do you need a huge budget to make your videos look great?
Not at all.
For a career practitioner like you, making videos may not be your core strength, but rather an instrument to convey important information to your existing and potential clients, as well as others who are interested in career development. You may not have the time or the resources to compete with professional video creators, but that does not mean you have to settle for beginner-level video quality.
I have tried various tactics for stepping up my video creation game over the years. The main thing I have learned is that great video quality does not always require a substantial dollar investment or above-average skill level.
Boosting the quality of your videos has never been easier
Tasteful branding elements and simple design touches can transform a dull, newbie-level video and give it that high-quality feel we all enjoy. More often than not, you do not need advanced graphic design or video editing skills.
Fortunately, there are a lot of tools to help you boost the quality of your videos without breaking the bank or spending hours mastering highly complex software. In this article, we are going to focus on five easy ways to take your videos to the next level using simple online tools.
Oh, Canva. How did we ever live without you?
Canva is my go-to design platform for creating gorgeous graphics in a matter of minutes. I use it to design thumbnails, presentation slides, infographics and other visuals to include in my videos.
Even though many career professionals are familiar with Canva and even use it on a daily basis, many of them are unfamiliar with its video creation capabilities. Canva offers hundreds of free video templates with beautiful design elements that can be easily customized for your needs.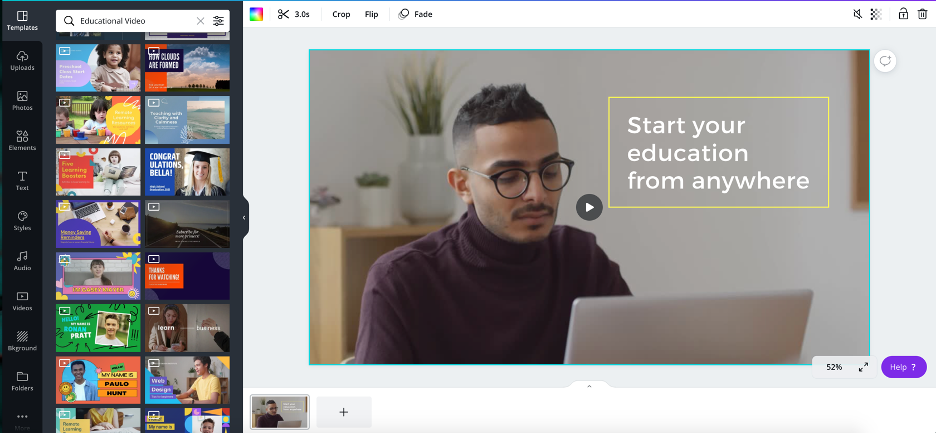 If you already have a Canva account, all you need to do is select the video tab on your homepage and start browsing through the selection of ready-to-use templates to pick one that is right for your brand or organization. You have access to different templates depending on how you are planning to share your video. For example, the format for YouTube video will be different than Instagram Stories.
If you want to add an extra touch of visual interest to your videos, Canva gives you an opportunity to play around with static and animated elements, including shapes, lines, frames, grids and stickers. There is also a wide selection of royalty-free music that you can add and adjust depending on the length of your video.
If this isn't a brilliant way to make your DIY videos pop, I don't know what is.
Vimeo is loaded with easily accessible tools to help you quickly create your own video from stock videos, photos and your personal files. It is your one-stop shop for video recording, editing and distribution. Some video editing features are accessible to paid users only under Vimeo subscription plans.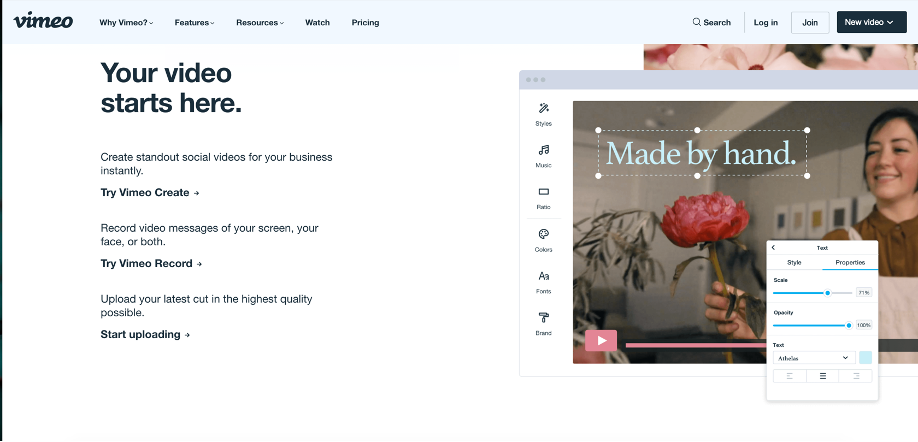 Unlike other online video-making tools, Vimeo allows you to not only customize and edit your videos, but also host them on its platform. Vimeo has grown massively over the past few years and has become YouTube's closest competitor. If you aren't a YouTube fan, Vimeo could be the right place for you.
If you are planning to share your videos on social media platforms, keep in mind that most people scroll with the sound off. That is why captioning your videos is a must if you want to get your video in front of a larger audience, boost engagement and improve the overall viewer experience.

Fortunately, there are online tools like Zubtitle that can do all the heavy lifting for you and caption your videos automatically within seconds, instead of you having to do it manually. Simply upload your video and Zubtitle will automatically transcribe the speech and convert it to video captions.
Zubtitle is a paid tool that costs half the price of hiring a virtual assistant. Plus, it offers some extra editing options such as resizing your videos for different online platforms, adding your logo and a progress bar that helps improve audience retention. What I like the most about Zubtitle is that it is extremely user-friendly and doesn't require any video editing experience.
Another easy way to caption your videos is to use Rev. All you need to do is upload your video URL or the video file, and you will be sent a caption file. Caption files can be easily uploaded to any platform where you want to host your video.
Rev prides itself on helping video creators at all levels of experience get accurate, high-quality closed captions for any video, done within 24 hours on a per-minute pricing basis.
If you aren't so much into the do-it-yourself spirit, Fiverr is the perfect platform to find affordable options for outsourcing any part of your video production process, ranging from designing a small animation intro for your videos to taking over the entire video editing from start to finish.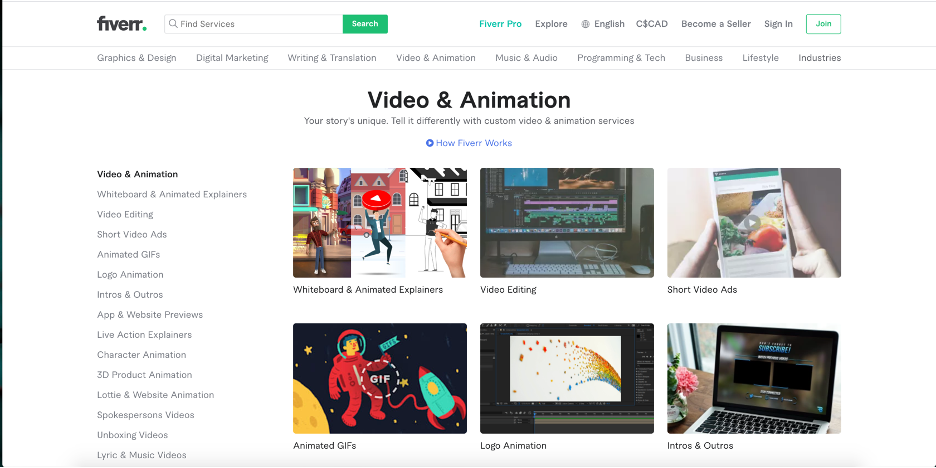 Type what you need in the search bar, and you'll find hundreds of freelancers who can take care of it for you at a really affordable price. You will be able to read customer testimonials, see their work samples, pick a timeline that works best for you and provide specifications for the deliverables.
Say goodbye to hard-to-use professional video software
As a career professional, you have an incredible opportunity to scale your organization's impact as well as your personal brand with the help of video. There is no big secret to creating professional-quality training, tutorial and marketing videos but one: don't reinvent the wheel.
If you think it takes a lot of work to level up your video skills, I encourage you to give these tools a try and see for yourself how easy it is to take your video game to the next level.
Tags :
career counselling
featured
podium
video