Reading Time:
3
minutes
CERIC's Guiding Principles have the potential to shape and enhance conversations about career development. For those of us who work in the career development field, these principles serve as a series of articulated truths – points about career that we understand intuitively and recognize in our work. Yet the Guiding Principles can do much more than hang on our office walls as colourful, eye-catching infographics that serve occasionally as conversation starters and mainly as decorations. The Guiding Principles are a window to self-reflection and can provide a basis from which to think about what we do as career professionals and how we do it.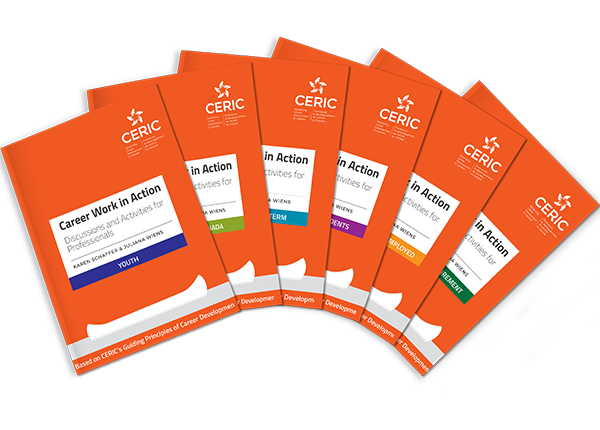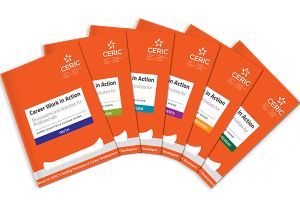 At least that's what we found! As authors of CERIC's newly-released Career Work in Action series, we spent considerable time this past year reflecting on how the Guiding Principles can be applied in meaningful ways to working with clients. Specifically, we thought about how these principles are reflected in the complex experiences of our clients, and how we as career professionals can in turn best provide support. The result of our efforts: Six Career Work in Action plans that contain concrete suggestions for working with particular groups of clients, and a new appreciation for the CERIC Guiding Principles of Career Development.
With that in mind, we challenge you to add an item to your list of new year's resolutions for 2020: Bring the Guiding Principles to life! Use these principles to think more deeply about your own career work as an individual and as a professional. Here are some suggestions:
Complete a personal writing exercise: Read through the Guiding Principles, reflect on where you're at personally in relation to each principle and write down your thoughts. For example, if career development means "making the most of talent and potential," how are you making the most of your potential right now? What changes can you make in the coming year?
Pick a principle and talk about it: Choose one principle that you relate to strongly and make a point of bringing it up in conversations. If you're telling someone about your work, talk about how you help others in relation to the principle you've chosen. Gather thoughts and ideas from your colleagues.
Embrace complexity in career work: Choose a topic of interest – trauma, the environment, artificial intelligence, reconciliation, etc. – and read about it. Reflect on how this topic/area/issue shapes the landscape of career. Think about your own work and about how you can best hold space for the complex lives and identities of your clients.
Take action: Download Career Work in Action for whichever groups interest you the most (Youth, Post-Secondary Students, Newcomers to Canada, Educated and Underemployed, Unemployed Long Term, Transitioning to Retirement). Read about how these groups are situated within the Guiding Principles, and explore discussions and activities for use with clients. Pick one new discussion or activity to try in your work.
Meet us at Cannexus: Attend our Cannexus session titled An Experiential Journey Through the CERIC Guiding Principles. We'll invite you in on our reflective processes, and guide you through a series of discussions and activities to help you connect to the Guiding Principles in a way that's relevant and meaningful to you. (This one's a shameless plug, but we promise you won't be disappointed!)
How do you use the Guiding Principles in your work, and what do they mean to you? Will you use them differently in 2020? We'd love to hear your thoughts, so please leave a comment below. Hope to see you at Cannexus20!
---
Want the best of CareerWise delivered to your inbox each week? Subscribe to our popular CareerWise Weekly newsletter to receive top news and views in career development every Tuesday.
Tags :
career counselling
featured
podium