Reading Time:
4
minutes
ChatGPT is a language generation AI model developed by OpenAI that can generate human-like text responses to prompts provided by users. It can produce essays, poems, scripts, or even translate and summarize text, along with more technical work such as solving coding problems. The software is currently free as it sits in its research phase, though there is a monthly charge for ChatGPT Plus in Canada.
With more than 100 million users in January 2023 and predicted to cross 1 billion users by the end of year (Martine Paris, Forbes, Feb 2, 2023), should career professionals be jumping on ChatGPT fever? Currently, ChatGPT offers a range of key features that make it an effective tool for career development practitioners, with advanced Natural Language Processing (NLP) capabilities to understand and generate human-like language.
This enables ChatGPT to provide personalized insights and suggestions based on individual career goals and experiences. It can quickly produce high-quality documents such as resumes, cover letters and personal statements, freeing up time for other important tasks in career development. With its ability to produce consistent formatting, ChatGPT can help present a professional image, increasing a jobseekers' chances of success in their career development journey.
Key considerations of using ChatGPT
Personalization: Obtain insights and suggestions based on individual career goals and experiences, helping to effectively market skills to potential employers.
Timesaving: Generate timely, high-quality documents such as resumes, cover letters, and personal statements.
Expertise: Pull resources and information from a variety of industries as ChatGPT was trained on a sizable dataset, making it a valuable resource for researching potential employers, job opportunities and best practices for career advancement. (Note: ChatGPT has limited understanding of information and events that occurred after 2021, which means it is unable to provide answers about current events, recent labour market insights or any topic that has emerged after this time.)
Personal statement writing: Write compelling personal statements tailored to potential employers to maximize the chances of being hired.
Interview preparation: Customize common interview questions for a particular industry to improve on interview performance.
Cover letter writing: Generate a customized cover letter for a targeted job.
Consistency: Maintain consistency in language, tone and formatting in written content such as LinkedIn profiles.
Early adopters indicate that ChatGPT has the potential to transform the job market by creating new opportunities and changing the way work is done, leading to a more productive and efficient labour market. (Bernard Marr, What Does ChatGPT Really Mean For Your Job? Forbes, Feb 13, 2023).
With these key considerations and many more benefits, the usage of ChatGPT no doubt will affect jobseekers, career practitioners and employment services.  The extent of the impact will be revealed over time; however, we recommend experimenting with this tool as it will have considerable advantage for those who act on it first, learn to successfully navigate it, and initiate discussions about how to address its effect on individuals, clients, organizations and the future of work.
Why you may want to be cautious while using ChatGPT
Aside from its limited data of up to 2021, ChatGPT has several flaws. For instance, it might provide plausible sounding but incorrect or nonsensical answers, write wordy statements and produce biased answers. In our experience, we have also observed a few missteps due to its inability to understand background information, context, jargon or nuances of a specific job or industry.
Also, ChatGPT uses information from a resume to create a cover letter, but it cannot go beyond what is written. As a result, it may infer incorrect, biased or misleading information.  AI-generated cover letters can serve as a starting point, as they can help overcome the difficulty of starting one, but the final product still requires customization, human knowledge and personalized touch to tell a unique story to make the greatest impact.
So, how do we make the best use of ChatGPT?
The key is to write an effective prompt. It's important to be clear and specific in a request, providing enough context for the model to understand the task. Use proper grammar and sentence structure; avoid ambiguous language; keep the prompt concise, consistent and consider the appropriate tone. By following these tips, you can write an effective ChatGPT prompt that will help the model understand and accurately respond to your request.  The more you practise using prompts, the more you'll learn to improve your prompting skills. Here's a quick example of a first prompt; you can follow up with subsequent prompts for more detailed results.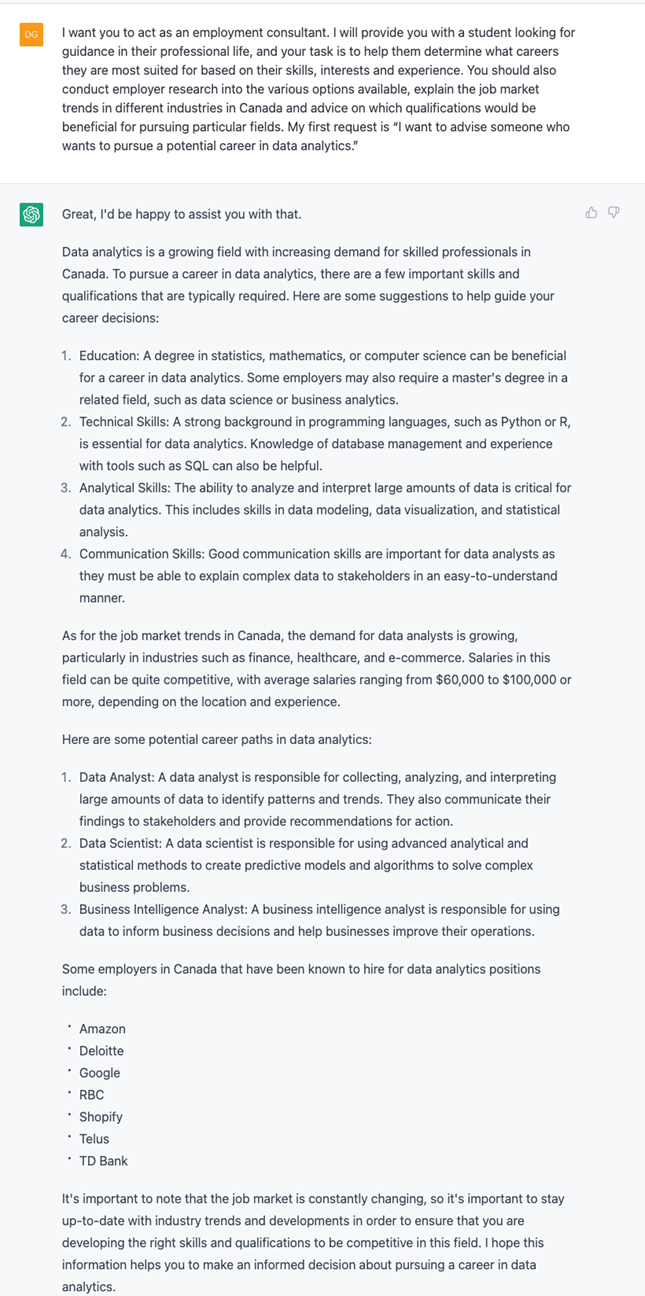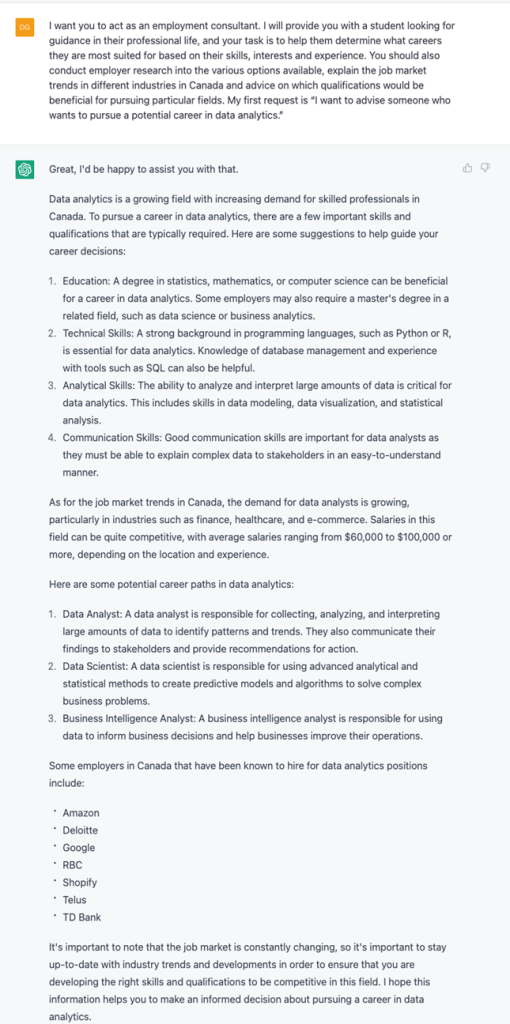 ChatGPT is a powerful tool that offers a range of key features to support career development with its advanced Natural Language Processing (NLP) capabilities, personalized insights and suggestions, time-saving efficiency, expertise, and emphasis on accuracy and consistency. Whether looking to generate high-quality documents, research potential employers or market to potential employers, ChatGPT has the tools and expertise to support jobseekers every step of the way. By leveraging the power of ChatGPT, job search activities can be achieved with greater ease and confidence. However, it's important to remember that ChatGPT in its current state is not a substitute for the personalized guidance of skilled advisors who bring the human touch and specific knowledge to a client's career development journey.
Let us know your thoughts and your experience with using ChatGPT, either within your own work or in helping clients.
---
This article was written by Denis Gravelle, Han Tran, and ChatGPT. (Yes! ChatGPT contributed to this article by writing an outline draft and answering some of the questions that we used as writing points such as, "What are its limitations?")
Tags :
featured
podium