Career development practitioners (CDPs) have a vital role in Canada's post-pandemic economic recovery. COVID-19 has changed the way businesses operate and as a result, labour trends are shifting. With these shifts come changes to the demands and expectations placed on the workforce, but not all workers are prepared to adapt or have equal access to training. To ensure workers receive the support necessary for success in the future workplace, CDPs need to be equipped with the proper tools.
The federal essential skills framework outlined by Employment and Social Development Canada (ESDC) is a natural match for improving career development services. By providing CDPs with essential skills tools to recognize, assess, and address skill strengths and challenges, they can better serve clients and their employment goals. Alberta Workforce Essential Skills Society (AWES) has developed a nationwide training opportunity based on research and past projects to integrate essential skills into CDP practice.
Continued best practice
Essential skills are used in various combinations and to varying degrees of difficulty during every task, in every job. All workers have essential skills, but some skills are stronger or used more frequently than others. When underlying skill gaps are not identified, workers may struggle to complete tasks. It is critical that workers understand their skill strengths and skill gaps so they can improve and find gainful employment that matches their skillset. By understanding the connection between essential skills and career development, and integrating essential skills tools such as assessments, complexity levels and occupational profiles, CDPs can be more responsive to client needs and recommend appropriate training.
In 2019, a national survey of nearly 400 CDPs indicated a gap in the use of essential skills tools in career development services. The survey revealed that 81% of CDPs search for essential skills tools and resources, but that only 54% regularly incorporate them into practice. Due to barriers to training that CDPs face, such as limited budgets, a lack of options in certain regions, time constraints and staff coverage, online training was identified as the most favourable method of training.
Guided Pathways, funded by the Government of Canada's Adult Learning, Literacy and Essential Skills Program, is a five-year project offering essential skills training to CDPs across Canada. It will lead to improved career development services and better employment outcomes for up to 690,000 Canadian workers.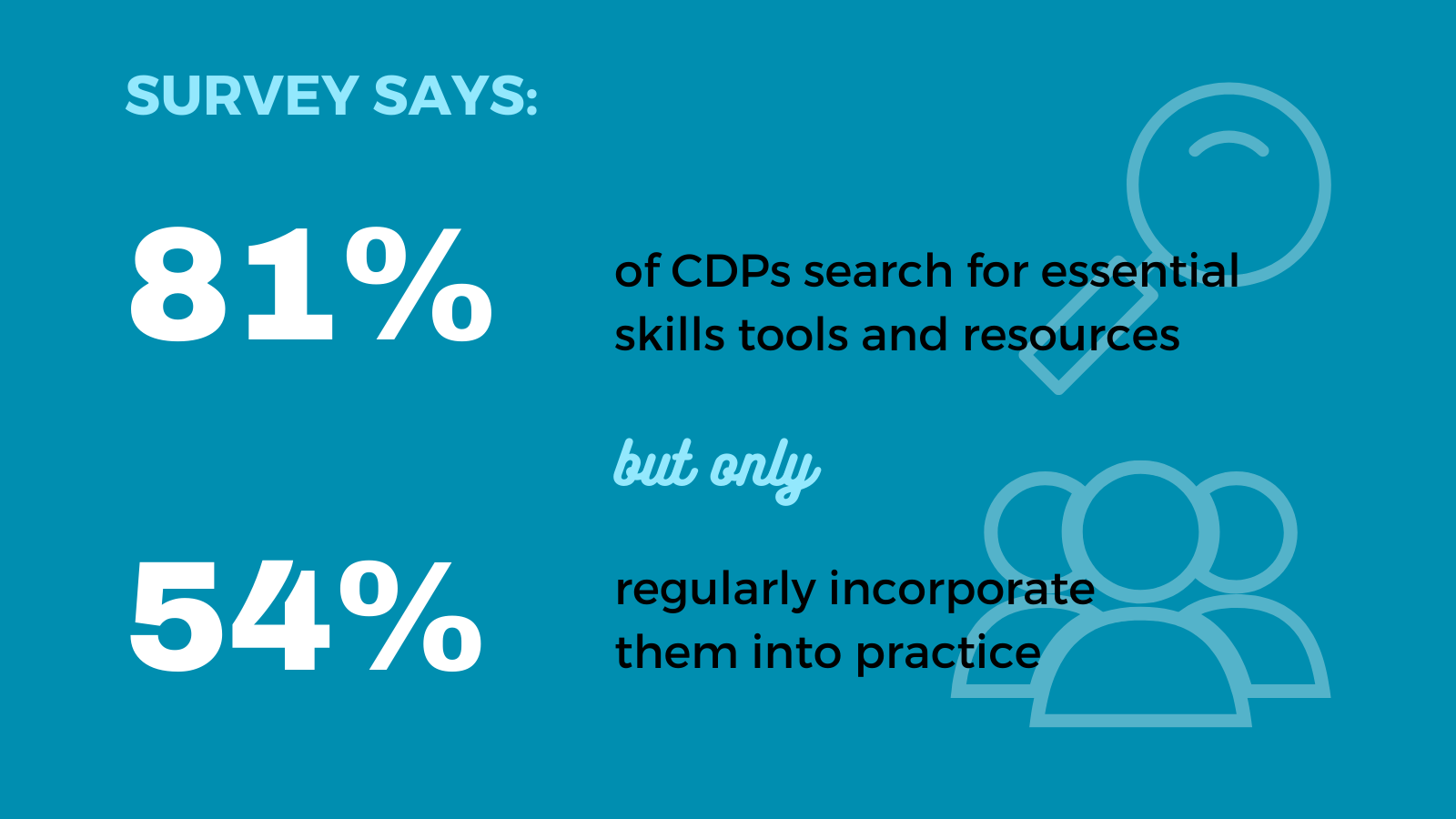 Training
With the help of Monarch Innovative Design for Learning, Guided Pathways developed online training that will be available at no cost to CDPs and can be completed at the time and place most convenient for them. Training is divided into four modules, each based on a different aspect of essential skills and incorporating various individual and small group activities and assessments. Content focuses on the background, framework, application and assessment of essential skills. Participating CDPs will also be invited to join a community of practice so they can connect with and support their peers.
Completion of this essential skills training will increase CDP confidence in skills assessment, recommendation of training to close skill gaps and planning more efficient pathways to lasting employment for clients. The Guided Pathways training is recognized by all provincial accreditation programs and can be applied toward continuing education credits or certification.
Career development practitioners from the pilot sessions of the Guided Pathways training said:
"Excellent material and presentation. Layout is easy to follow and well done. This will be of practical use for CDPs."
"This will help us in developing our essential skills training."
"Overall, this is a very simple, clear and relevant way to present the background an application of essential skills to CDPs. Well made!"
What's next?
Training will begin in the spring, but in the meantime, a library of self-study tools is on the Guided Pathways website. A variety of resources and workbooks covering a range of topics are available at no cost, which CDPs can review or recommend to clients.
AWES has two upcoming presentations and info sessions for those who would like to learn more about what participating in this project will look like. Information will be available at our Contact Conference session on April 20, and in a webinar with Tutela in May. Our presentation from Cannexus21, Guided Pathways: Integrating Essential Skills, is also available to anyone who was registered for the conference. The presentation contains a preview of how the training modules will look.
Registration for this federally funded project is now open. If you have questions, contact project manager Maureen Souply at maureen@awes.ca or visit our website for more information.
The nine essential skills outlined by the ESDC federal framework are the foundation of all other skills.  These skills support future learning and make adapting to change easier. When workers have the essential skills necessary for success, they can engage in their work and community in a more meaningful way.
Tags :
career counselling
featured
job skills
podium