Making your way out of poverty not only requires determination, but also a lot of meaningful support to stabilize your life for long-term success.
A fundamental component of Peterborough Social Services' is the provision of case management for financial and employment supports for low income individuals and families. For years, our focus has been on immediate solutions such as housing and work placement, yet we continued to see many of the same faces return for support when things went wrong. As a result, we have recognized that life stabilization is truly the key element for keeping the job and/or housing and maintaining the relationship or support system. We have been implementing life stabilization coaching to support participants who are pursuing long-term stability.
The Bridges out of Poverty model through aha! Process informs our thinking as we continually improve the programs and services we offer. Through the Bridges out of Poverty lens, we have been successfully improving relationships and helping our clients stabilize their lives for a better quality of life. This framework supports long-term success for individuals, organizations and communities.
What does instability look like?
Bridges defines instability as the extent to which an individual does without the following 11 essential resources: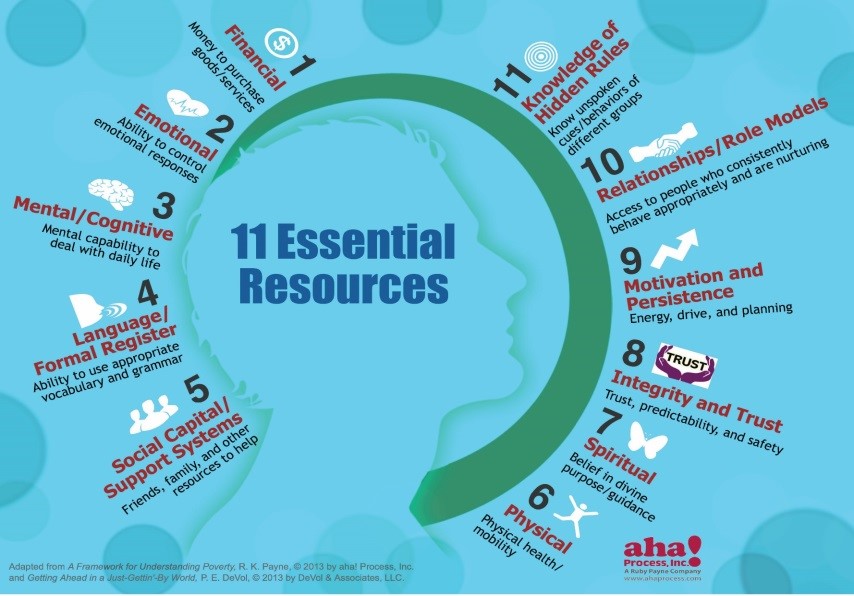 This model, which recognizes that life stabilization is crucial for long-term employment success, has provided a framework for our coaching approach. In addition to our financial case-management supports (as legislated by the Ministry of Community and Social Services), combined with our daily crisis management with individuals who access our services, we continuously work on supporting our clients in building these 11 essential resources for stability through a coaching relationship.
While we use several tools to assess where a person is at in terms of these 11 essential resources, our primary assessment tool for employability within the division is the Employment Readiness tool (ERS), where seven of the employability factors in ERS are directly linked to the 11 resources from Bridges. We also facilitate Getting Ahead in a Just-Gettin'-by World Workshops for interested clients who are ready for change.  This workshop includes a five-point scale self-assessment of the 11 resources at the beginning, middle and end of the program, and at six months post-graduation. Throughout this experience, participants discover how building these resources will enhance their stability for long-term success.
Read more from Suzie Johnson-Smith on CareerWise: The missing link in workforce development
How coaching helps people develop essential resources
Coaching is a professional relationship that helps people break through their limitations to achieve desired results in their lives. The process of coaching helps the individual to learn, improve their performance, and enhance their quality of life through self-discovery and self-empowerment. Coaching helps the individual set goals, identify supports and develop strategies to reach their targets at a pace that is realistic for them.
The abilities to effectively build rapport and trust are the most critical skills in coaching. We use the concrete tools and constructs from the Bridges out of Poverty strategies for professionals workshop (and/or book) in order to effectively build trust and rapport with our clientele.
A key element of coaching revolves around how a coach can relate in a way that inspires people to trust him or her. Trust is an essential element in coaching and communication.
A coach must inspire trust in order to build a relationship of mutual respect with the client. Dr James Comer put it best: "No significant learning occurs without a significant relationship." Building a respectful relationship doesn't mean becoming the client's buddy. It means that the flow of information goes both ways and is equally valued. Only then can the client and coach insist on high-quality output and hold each other accountable to achieve it.
A coach should also be an effective and compelling communicator. Great communicators stand out from the crowd; they're tactfully honest, they're authentic and they genuinely listen. They excel in communication because they value it, and that's a critical first step to becoming a great coach. An effective coach doesn't tell the individual what to do. Rather, in each meeting, the individual chooses the focus of conversation, while the coach listens and contributes with observations and questions. This interaction creates clarity and moves the individual into action.
Good coaches believe that the individual has the answer to their own problems within them and facilitates dialogue that helps the individual find that answer. Coaching focuses on the present in order to achieve future goals. Counselling focuses on the past and what is hindering achieving those future goals.
Powerful relationships create powerful results
When we support our clients in building the 11 essential resources to stabilize their lives through a positive coaching relationship, the results can be quite powerful for long-term success. The outcomes are demonstrating that we are supporting clients in improving resiliency, enhancing their interpersonal skills to maintain relationships and/or manage conflicts, and developing the overall ability to plan effectively in order to reach their preferred future story.
Sources:
Canadian Coaches Federation – coaching framework
Aha! Process – Bridges out of Poverty and Getting Ahead in a Just Getting by World
---
Want the best of CareerWise delivered to your inbox each week? Subscribe to our popular CareerWise Weekly newsletter to receive top news and views in career development every Tuesday.
Tags :
cannexus
career counselling
podium