Working from home has become more common across the country over the past year, but a new report from the Future Skills Centre reveals that while the experience has often been seen as positive, many Canadians are concerned that remote work will negatively affect their careers.
The report, titled Work at home or live at work: The complexities of new working arrangements, is based on a survey of more than 5,300 Canadians conducted by the Environics Institute and done in partnership with Ryerson University's Diversity Institute. The survey reveals a range of responses to changes in the work experience during the COVID-19 era. Although the majority of those surveyed report a mostly positive view of remote work, many others – particularly youth, newcomers, racialized and Indigenous workers – expressed concern about the impact of remote work on their careers, while others said they were grappling with the stress of juggling work and family life.
View a PDF of the infographic. Plain text and additional details from the report below image.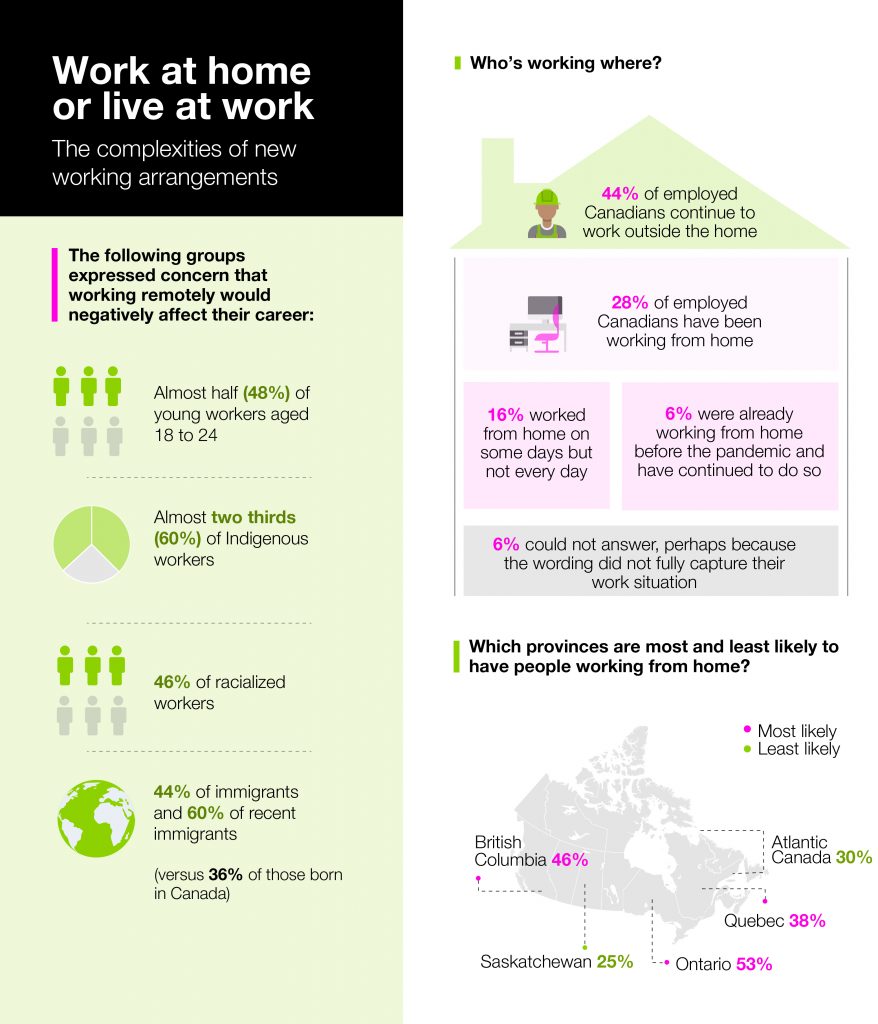 The following groups expressed concern that working remotely would negatively affect their career:
Almost half (48%) of young workers aged 18 to 24
Almost two thirds (60%) of Indigenous workers
44% of immigrants and 60% of recent immigrants (versus 36% of those born in Canada)
46% of racialized workers
Who's working where?
The survey shows that remote work has been more common during the pandemic among office and clerical workers, professionals and executives. Conversely, people working in sales, services, trades, transportation and labour were less likely or able to work from home. In total, one in two Canadians (50%) have been working from home at least on some days during the pandemic.
44% of employed Canadians continue to work outside the home
28% of employed Canadians have been working from home
16% worked from home on some days but not every day
6% were already working from home before the pandemic and have continued to do so
6% could not answer, perhaps because the wording did not fully capture their work situation
Which provinces are most and least likely to have people working from home?
Most likely:
Ontario – 53%
BC – 46%
Quebec – 38%
Least likely:
Saskatchewan – 25%
Atlantic Canada – 30% 
Other findings:
More than three out of five people said working from home is easier than they expected, with the same number liking it better and finding it less stressful than their usual workplace.
Two out of five expressed concerns about juggling work and family responsibilities while working from home. They feel like they are constantly working with no time for themselves or their families.
One in three respondents said they find it impossible to do their jobs well from home.
Three in five of those with young children say that while working from home, they feel that they cannot simultaneously be good parents and good workers or employees.
Almost half of those with a physical or mental disability, condition or difference that limits their daily activity say that it is impossible to do their jobs well when working from home.
Many of those experiencing challenges while working from home still feel positive about the arrangement overall. Despite some downsides, seven in 10 people working from home say that once the pandemic is over, their employer should show flexibility and allow them to continue working remotely at least a few days a week.
Source:
The Survey on Employment and Skills was conducted by the Environics Institute for Survey Research, in partnership with the Future Skills Centre and Ryerson University's Diversity Institute. The survey  reports the results of research conducted from Nov. 24 to Dec. 22, 2020 as the second wave of the COVID-19 pandemic gained momentum. The survey's goal was to gain a more in-depth understanding of the future implications of the pandemic on employment and in-demand skills for Canadians. Results are based on responses from 5,351 Canadians aged 18 and up in all provinces and territories.  
Tags :
featured
labour market
podium
remote work