Employer engagement is a critical component of workforce development programs because it is through these activities that we are better able to align our programs with the needs of employers. This results in stronger opportunities for our clients to be hired into good jobs. It's important to remember that good jobs are more than those that cover a client's financial obligations – good jobs increase a client's quality of life and assist in their career progression.
Not long ago, an employer who has a long-established relationship with our organization – the YMCA-YWCA of the National Capital Region ­– stated: "You guys spend so much time telling me what you can do, but you never ask what I need." As a sector, we seem to concentrate on our "pitch" and forget to use our listening skills. All too frequently, employers state that they find employment services to be fragmented with lots of duplication, and this leads to frustration. While the contracts with our funders are primarily performance-based and weighted toward the number of clients who receive jobs, we need to recognize that part of achieving those targets is listening to employer needs to develop deeper partnerships.
Assessing the needs of employers
During the winter of 2018/19, Trades Talent Link (a primary research project funded by IRCC and undertaken by the YMCA-YWCA of the National Capital Region) completed an employer engagement survey of 250 skilled trades employers. The survey examined employer hiring practices. It asked employers if they had accessed services to assist in their recruitment or retention, including co-op placements or Employment Ontario network sites. Survey results showed that 60% of employers do not access these services.
"All too frequently, employers state that they find employment services to be fragmented with lots of duplication …"
Next, if an employer had not accessed services, we asked why not. When considering approaches to our employer engagement practices, it is interesting that roughly 34% of the 121 employers were unaware that these services existed or weren't aware of who the service providers were. This points to a strong need to examine employer engagement within the context of employment programs.
The skilled trades workplace has unique requirements
So, how do we engage skilled trades employers more effectively?
First, service providers need to recognize that a skilled trades workplace is unique. When we're working with these employers, we need to remember that these are mostly small-to-medium-sized enterprises (SMEs) that may not have HR support – often, the business owner is also the hiring manager. That means that their attention will usually be more focused on running their business versus recruitment. When working with SMEs, acknowledge that the employer is more likely to be at a construction site (or in the shop) versus in an office near a computer and phone. Their priority will be on the job and not answering email or voicemail. Persistence will be important. Avoid calling once (or twice) and assuming that the employer is not interested in talking to you or does not have hiring needs. Take the time to schedule a visit with the employer and travel to see the working conditions.
Schedule site visits
Although we're used to using technology to reach out to employers and colleagues, nothing beats an in-person visit as a way to deepen the working relationship with an employer. Taking the time to visit an employer demonstrates your commitment to meeting the employer's needs. Keep in mind that when we engage employers, we're also working in the best interest of our clients, so viewing the working conditions can provide insights for the client. For example, if the project relates to infrastructure, the client will largely be working outdoors. You can ask if the client finds this work environment acceptable – do they want to work outside during extreme heat or cold? Additionally, a site visit provides us with the opportunity to observe health and safety practices. The site visit is also your opportunity to ask the employer about their hiring needs.
Listen carefully to needs
Resist the urge to start the visit by telling the employer what you intend to do for them. Instead, ask what the employer sees as their hiring needs. Trades Talent Link asked skilled trades employers what skills and qualifications they looked for in a new hire. Figure 1 shows the results from that question.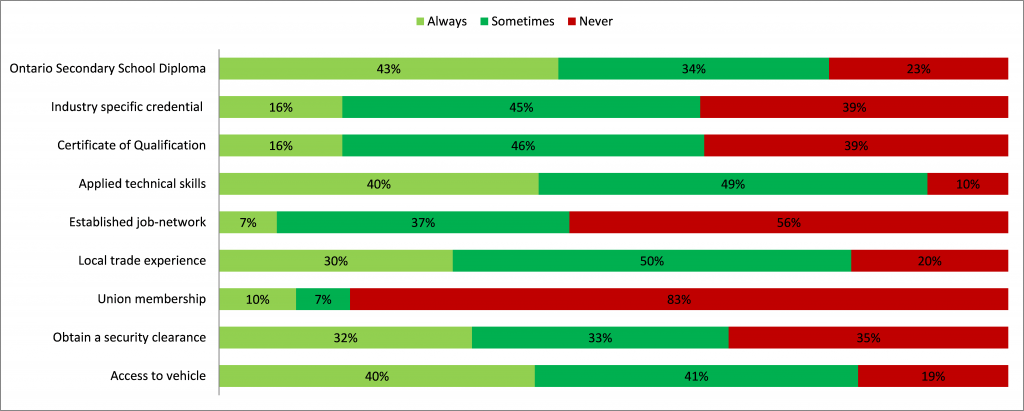 Understanding needed skills and qualifications allows employment practitioners to pre-screen candidates and offer two or three of the strongest matches to the employer.
In the same survey, we asked what supports would be most beneficial. Eighty-two percent of respondents said pre-screening of candidates. Understanding what supports employers need gives the practitioner the opportunity to work with the employer to find ways to ensure a potential hire meets their requirements. Employers may be willing to work with your client and allow them to update their skills on the job when the employer and client have access to supports from employment programming.
Hopefully, this article provides some insight into the importance of developing deep partnerships with employers and assists you in further developing your engagement strategy.
---
Want the best of CareerWise delivered to your inbox each week? Subscribe to our popular CareerWise Weekly newsletter to receive top news and views in career development every Tuesday.
Tags :
podium
trades
workforce development