Leaving the city of Toronto 25 years ago to raise my family with my partner was less of our own decision and more of a financial must. To this day, I remember how I "lost myself" in that move. I struggled with uncertainty, lack of control and overwhelming sense of urgency to find a job with a dream of building a career. Today, as the Employment and Education Coordinator for the Trenton Military Family Resource Centre (MFRC), I help my clients navigate similar emotions.
Primarily working with military spouses and dependents since 2006, my scope increased to assisting transitional military members in 2015. My heart broke time and time again as I saw first-hand the sacrifice military members had made for our country and how lost in transition to civilian life some of them seemed. This article will share some of what I have learned working with military spouses and members, and also share some programs and tools we use at the Trenton Military Family Resource Centre (MFRC) to help our clients succeed.
Understand the culture, lifestyle and sacrifice and know the supports in place
To work with this population, it's important to understand their experiences. Military spouses sacrifice so much for our country. Whether they have been posted (moved to a different base) during their education or have had to quit their job in order to move, the fact is, they now find themselves unemployed, underemployed and/or with incomplete education or non-transferable credentials. In careers such as nursing or teaching, moving provinces often means additional courses, registration requirements, long waits and a lot of uncertainty.
Resources and programs available to help support military spouses in their careers:
Military spouses consistently experience upheaval from their jobs, often losing seniority and career progression in the process. Despite often having high level of competencies and bilingualism, military spouses may face discrimination from employers who fear that they will train them and then they will move.
Some families may choose to "unofficially separate" through an IR (imposed restriction), which sees the military member go to the new posting location unaccompanied, while the spouse and/or children stay behind. This is not an easy decision, but is necessary in some instances. What if you have a child who has special needs and they have just received the in-school supports they require, or what about teenagers entering or finishing high school, or, or, or … the sacrifice for all members of the family is huge.
Being part of the military community comes with unique challenges and fostering trust is crucial. I want my clients to feel supported, heard, understood and respected. In a culture of constant change, I strive to be that "soft space to fall," somewhere that fosters the chance to open up and share. I work hard to build the kind of rapport I needed when I had lost myself.
What's different at the Trenton MFRC?
I have always used a "needs assessment" mindset in my work with military community members; what's missing and what will help? To assist military members and spouses in using their past experiences to embrace their goals – a new career, finishing education or just figuring out what's next – I developed a tool. Enter: Portfolio Development, a method of PLAR (Prior Learning Assessment & Recognition).  Offered in partnership with Loyalist College, I offer courses twice yearly. Portfolio development helps participants:
Choose a goal
Articulate a vision and a mission for achievement
Learn about community resources and support
Build a competency/course-match document outlining their prior learning as relates to required competencies
Build narratives of explanation
Choose appropriate, substantive documentation as evidence
I am always amazed and in true admiration of the physical and psychological changes that come about when someone creates a portfolio. The ability to take control of who you are, your story, what you want and how you can prove your prior learning to leverage it against your current goal is truly a gift. Within my classes, I also teach participants how to shift their portfolio from one focus to another. If they built an educational portfolio and have now graduated, instead of building a new portfolio, I teach participants how to shift the focus for use in an interview or career search.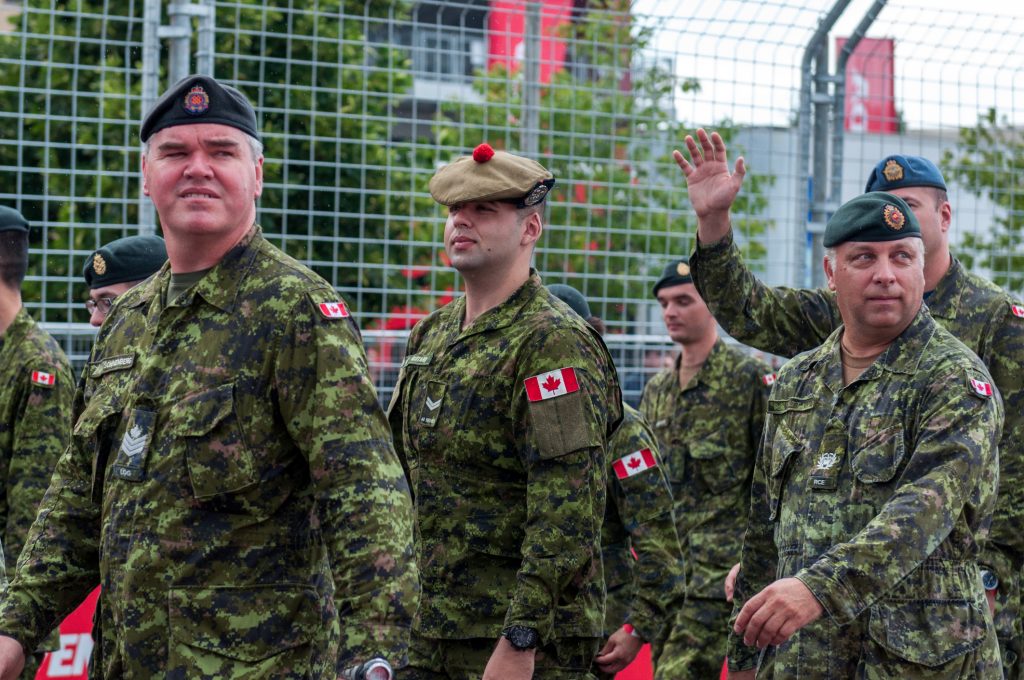 What about those people who can't find that perfect job? HERCS was born to help participants create their own opportunities. Developed almost a decade ago and updated regularly, HERCS is a series of online workshops designed to help military community members start or enhance their own small business. It is available to Canadian military members and spouses worldwide through funding from Military Family Services.
Lending a helping hand
I give thanks and remembrance to those who have and continue to sacrifice for our country.  I recognize that I am honoured to have a well-rounded support network in my career, as well with my partners and family. I strive to always look forward and share what I have learned with my clients, with a goal to help military community members thrive in any way that I can.
---
Want the best of CareerWise delivered to your inbox each week? Subscribe to our popular CareerWise Weekly newsletter to receive top news and views in career development every Tuesday.
Tags :
military
podium