Reading Time:
4
minutes
In a conversation between this article's authors about survival jobs and interview red flags, the topic of illegal interview questions arose. Amy has worked with diverse professionals in a variety of organizations and Devon has worked extensively with post-secondary students, so we decided to combine our two perspectives to examine the experiences of students and seasoned professionals, and how they can respond to illegal or inappropriate interview questions.
The student experience with illegal interview questions
Devon
Whenever I lead seminars on interview tips, a great deal of discussion ensues when we get to the topic of illegal questions. I start with a basic overview of what is illegal and why: in Ontario, employment is one of the protected social areas upon which discriminatory actions are prohibited on any of the protected grounds of the Human Rights Code. Translation: you can't deny someone a job for any reason in the list of protected grounds, such as gender identity, race, creed, family status, etc. For that reason, an employer is not permitted to ask directly about any of those areas during a job interview. With the basics covered, I ask students how they think they might handle the situation if they were asked an illegal question in an interview.
Recently, a student I will call "Lucy Lopez" told a doozy. Lucy has pale, lightly freckled skin and copper-coloured hair. She often gets a reaction when people hear her surname. When she introduced herself at a recent job interview, one of the interviewers responded with "Lopez … is your dad brown or something?"
In that same session, another student said she was asked three times, in three different ways, about whether she had children or was planning to have children. The topic kept coming up under the guise of "We have great extended health benefits for families." The most common version I've heard from many students over the years is an employer saying something like "Your accent is so cool! Where are you from?"
Every one of these situations is illegal (not to mention offensive) in a job interview scenario.
Bona fide exemptions
It should be noted that there are bona fide exemptions to these rules. The example I often give is that you must be Jewish if you would like to be a rabbi. The same is true if you will be working closely with any marginalized population; the organization can request that you are a member of that population. Employers can also ask about protected grounds if it is relevant to the job. For example, summer jobs funded by government youth employment initiatives typically require the successful candidate to be between the ages of 18 and 30. However, in the interview, the question should be phrased as "are you between the ages of 18 and 30?" not "how old are you?"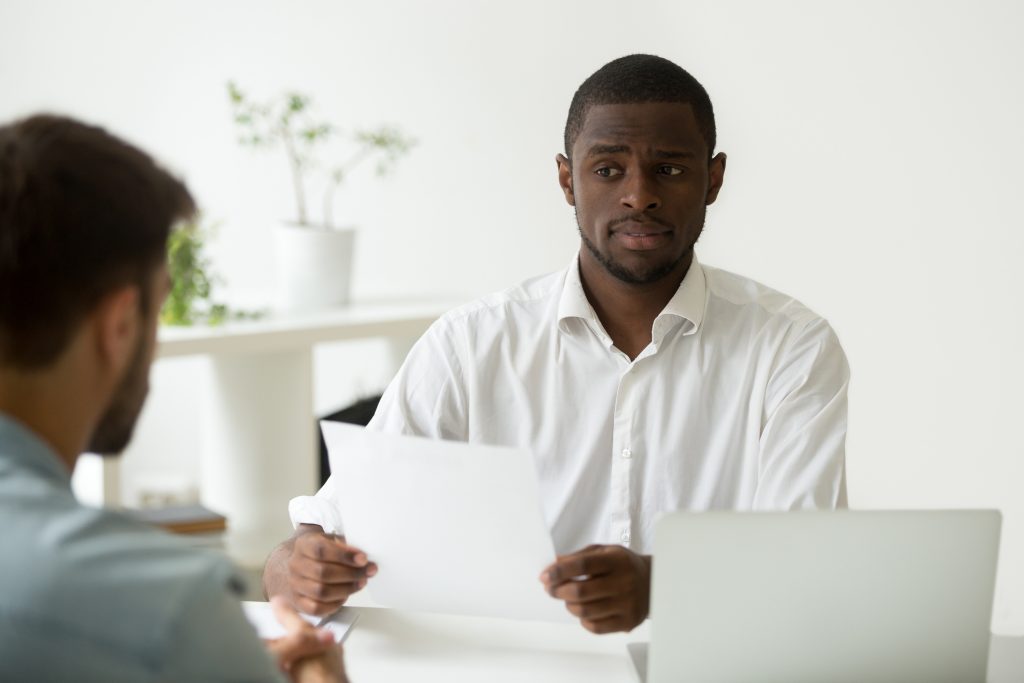 Challenges for seasoned professionals
Amy
Wondering if the issue of illegal questions was limited to students who may be less experienced, I posed the question to my LinkedIn network and heard from multiple people of varying ages and across industries about their experiences. It became clear interviewers need some education and re-education when it comes to interviewing practices. Women, it seems, are commonly asked about their plans to have children or how their husbands feel about them taking an executive-level role (hello, Mad Men!). Candidates are being asked about their sexuality and their age, not just in interviews but also on online portals when applying for jobs with top-tier, multinational organizations.
"Candidates can remove themselves from the hiring process at any time."
It's true that in some cases, candidates felt the questions were innocent and the result of a lack of education. In others, however, interviewees felt like their candidacy was dependent on their answers to very personal, illegal questions.
Part of the problem is that not everyone has HR training and hiring managers are seldom coached by an HR rep before interviewing. In Canada, however, ignorance of the law is not a viable defence for breaking the law, so businesses large and small and hiring managers with or without a background in HR should be trained to avoid breaking the law and the potential for costly litigation.
How can jobseekers respond?
There are many ways to respond to illegal questions; how a candidate reacts can depend on how they feel in the moment. Does it seem like the employer misspoke because they were nervous? Candidates should be gracious and move on. Does the interviewer seem to be dancing around the same seemingly irrelevant issue? That's an opportunity to get curious. ("I think I must have missed something in the job description. Is it important for this job that I be a parent?") Does it feel like serious discrimination? Candidates can remove themselves from the hiring process at any time. Candidates can choose to report the problem to their provincial human rights commission or tribunal, or consult with a lawyer on further recourse.
As Canadians, we strive to be inclusive and promote diversity of all types in our communities and in our businesses (at least, most of us do). Some well-meaning but misled companies will ask illegal questions not because they want to be exclusive, but because they want to increase the diversity of their staff. Others actively discriminate against cultural groups and communities. Whatever the case, these questions are illegal for good reason and companies would serve themselves, their employees and candidates to become as educated as possible about questions which are and are not permitted. A great place to start is the history of human rights in Canada.
Tags :
job interview
labour
podium