Reading Time:
4
minutes
People are often surprised to learn that the owner of Powerful Play Experiences, the facilitator who brought infectious energy and enthusiasm to their workshop, is also a person living with mental illness. It seems to be a contradiction for people.
I talk openly about experiencing and managing depression and anxiety, while also running a small business founded in workplace fun and mental health optimism. I enjoy shattering people's perceptions about what mental illness looks like. And I also hope that by sharing my story, I can help address the stigma attached to mental illness.
Living with and managing mental illness as a business owner
Throughout my 16-year journey as an entrepreneur, I have often found myself feeling anxious, overwhelmed, even challenged by the expectations that I put on myself to make sure Powerful Play Experiences is a successful business. I'm not alone in these feelings. A 2019 study by the Canadian Mental Health Association (CMHA) found that 62% of business owners feel depressed at least once a week. Nearly half of the entrepreneurs surveyed (46%) said that mental health issues interfere with their ability to work.
Mental illness has affected both my work life and my personal life. In fact, there are at least four generations of mental illness both in my immediate and extended family members. So, it should come as no surprise to anyone when I say that I've experienced many episodes of depression and high anxiety over the past 20 years of my life, and well before becoming a business owner.
As a male, I have had to learn and get comfortable with the simple act of talking about my depression and anxiety and reaching out for help. My bigger goal? To be a role model for men everywhere, especially men who are entrepreneurs, who really need to get comfortable with talking about their daily mental health and to get the help and support they need.
Strategies for optimism
My day wouldn't be complete without a conversation with myself about the simple fact that the work I need to do requires positive mental health. Negative thoughts and false beliefs about myself – "I'm a failure" – get in the way of moving forward and affect my mood.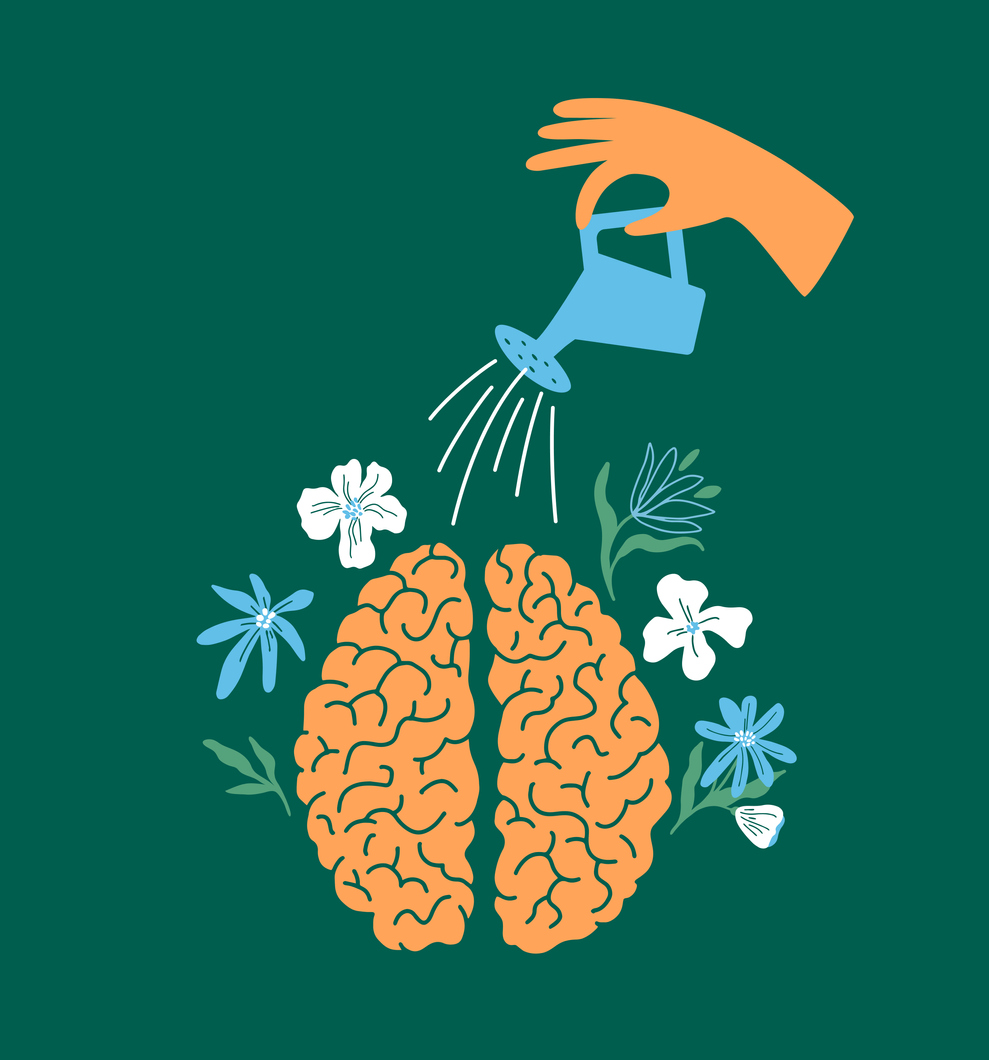 Conversations with myself are quite insightful and result in heightened self-awareness. I always draw strength from knowing that if I continue to demonstrate self-care and compassion toward myself, and don't beat up on myself, I'm in a much healthier place of positive mental health for me and my family.
Fill your own cup first, I say to myself. I am not my worries. I am not my overwhelm. My work contributes to something bigger than me through the services that I deliver. My work is meaningful and important. I follow my heart and give full attention and energy to being the most positive and enthusiastic person I know.
Be your own Mental Health Champion
Needless to say, I'm committed to being a Mental Health Champion for friends, family and professional colleagues. But what about YOU? No matter what you do for work, if you're like most people, you hope and do your best to make a difference with your work and your co-workers. To do this in your workplace, you need to feel that your workplace is supporting you, welcoming you, appreciating you, wanting you to succeed and grow, with everyone working together toward a greater common goal.
"I am not my worries. I am not my overwhelm. My work contributes to something bigger than me through the services that I deliver."
How would you describe the quality of positive mental health in your workplace? Does your workplace make you feel safe? Accept you? Support you? Does it make you feel like you are walking on eggshells? Reject and criticize you? Make you feel like you are not good enough? Do you feel at ease or are you waiting for someone to catch you make your next mistake? Our workplace culture has a great influence on whether we flourish or fail. Our workplace culture impacts our mental health.
Everything starts with a conversation
People have come to know me as someone who is comfortable starting a conversation about my own personal story of living with and managing depression and anxiety. But I can also appreciate that each of us has our own capacity and our own abilities to manage and cope with the normal stressors of life. It's reasonable to assume that, on occasion, we may find ourselves stressed by the diverse situations that affect us at home or at work. Maintaining positive mental health is a life journey.
All of us can start conversations. The simple act of starting a conversation about your own mental health is a clear demonstration that you care about you! And you also care about the mental health of other people in different parts of your life. 
Never forget: You matter! Positive workplace mental health matters, even when up against "work to be done" or "We have a lot going on" and "We just don't have the budget for this."
Be someone who is authentic and real, and who wants to contribute to something bigger than yourself by helping people get comfortable and talk about their many mental health challenges, daily.
Be someone who "GETS IT"!
Be someone who starts the conversation.
Tags :
featured
podium