Reading Time:
5
minutes
Following CERIC's first-ever hybrid Cannexus conference, our team is a little overwhelmed – by the joy, enthusiasm for learning, incredible connections and inspiration that more than 2,000 attendees brought to Ottawa and our virtual platform last week! On the virtual side, we saw session chats lighting up with comments and questions as people came together from across the country (and around the world!) to learn about the latest in career development. For those who attended in person, it was wonderful to see your excitement at reuniting with colleagues for the first time in years.
CareerWise took to social media to see what attendees were saying about the conference, and our gratitude only continues to grow. While we couldn't include everything, we've compiled a snapshot of your conference takeaways from the week. You can also check out #Cannexus and #Cannexus23 on LinkedIn, Twitter and Instagram for more!
Tech tip: This post is jam-packed with wonderful posts from Cannexus presenters and delegates – you might need to give it a minute or two to load.
---
Lifelong learners
We loved seeing your learning highlights from the 150+ sessions at Cannexus23. Don't forget: Whether you attended virtually or in-person, you have access to all virtual session recordings for six months!

View this post on Instagram
"Talent us equally distributed across all sociocultural groups; access and opportunity are not." @SRDC_SRSA from #Cannexus #Cannexus23 pic.twitter.com/EMFpwI47Ws

— Jade Pichette (@JadePichette) January 25, 2023
Today our Co-founder, @ajtibando, was the speaker at @cannexus by @ceric_ca.🎙️

AJ spoke about how building an ecosystem of #upskilling across #Canada will create a path to building an inclusive economy that creates access & opportunities for all #workers to participate. 🇨🇦 pic.twitter.com/p6SyApTZ62

— Palette Skills (@paletteskills) January 24, 2023
Day 2 of @cannexus
is off to a great start, after attending this morning's session "Smoke and Mirrors, The Illusions of the Employment Services Sector." Happy to see so many people in this informative session! pic.twitter.com/UCMqqEpWre

— ApprenticeSearch.com (@HIEC_appsearch) January 24, 2023
Great presentation by @Rich_Feller at #Cannexus.

Drop by the @fsc_ccf_en booth to chat with the @researchimpact team! pic.twitter.com/hQGHcwnnip

— Trudy (@nfld_trudy) January 23, 2023
---
Oh, the people you'll meet!
Whether it's connecting with new colleagues who have shared interests, reuniting with old friends or bonding with fellow delegates over weather woes, Cannexus has a way of bringing people together.
Take a look at our Workforce Development Team out in Ottawa attending Cannexus 2023! pic.twitter.com/N0V0InGpgp

— Tewatohnhi'saktha (@Tewatohnhi) January 25, 2023
Do your parents understand what you do for a living? 🤣

My mom has always been a bit confused re: my work. So when I emceed a hybrid conference in Ottawa called #CANNEXUS23 on career development, I asked the audience to share a little message with her! ❤️#professionalspeaker pic.twitter.com/bRkU1OYoSO

— Keka DasGupta (@KekaD) January 27, 2023
View this post on Instagram
What do staff from @OPRCNS @Futureworx and @nsworkscareer do when stranded at the airport in Ottawa after attending @cannexus ? The very Nova Scotian tradition of gathering for drinks at the "kitchen table" , of course! 😊 Separated by regions, bonded by NSW. #careerdevelopment pic.twitter.com/8pNeJ8iPgU

— NSW School Liaison-SHS, MWD, & Bay V High Sch's (@tasco_charlene) January 25, 2023
---
On the main stage
It was a thrill to welcome three fabulous Keynote presenters who shared their inspiring stories and keen insights with our virtual and in-person delegates alike: Dr. James Makokis, Canada's Two Spirit, Diversity, Indigenous Health and First Nation Expert, kicked things off on Monday morning with an enlightening talk on Race, Gender, Sexuality & Unconscious Bias; Economist and Author Linda Nazareth helped us get ready for the redefined future of work on Tuesday; and Tareq Hadhad, Founder and CEO, Peace by Chocolate, closed out Cannexus with the compelling story of his family and the positive impact of Syrian newcomers.
A true honour to be in a room w/ @DrMakokis to listen & learn at #Cannexus23. Many imp. msgs:
– Elevate Indigenous knowledge when talking about equity & justice
– Talk about power & privilege when addressing injustice
– Be critical of the systems of oppression@cannexus @ceric_ca pic.twitter.com/aauOH5ZFdr

— Rhonda Taylor (she/her) (@RhondaTaylor_) January 24, 2023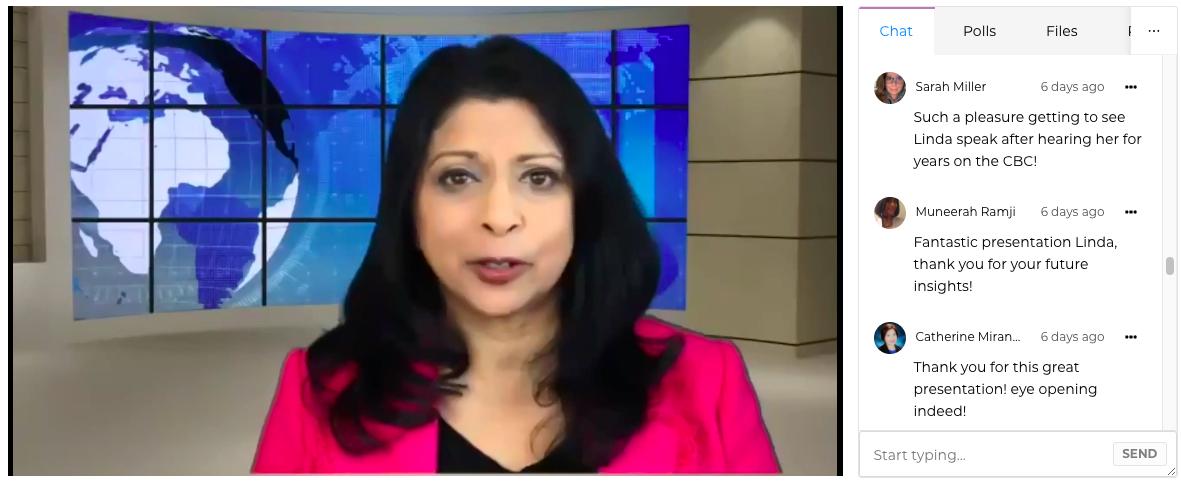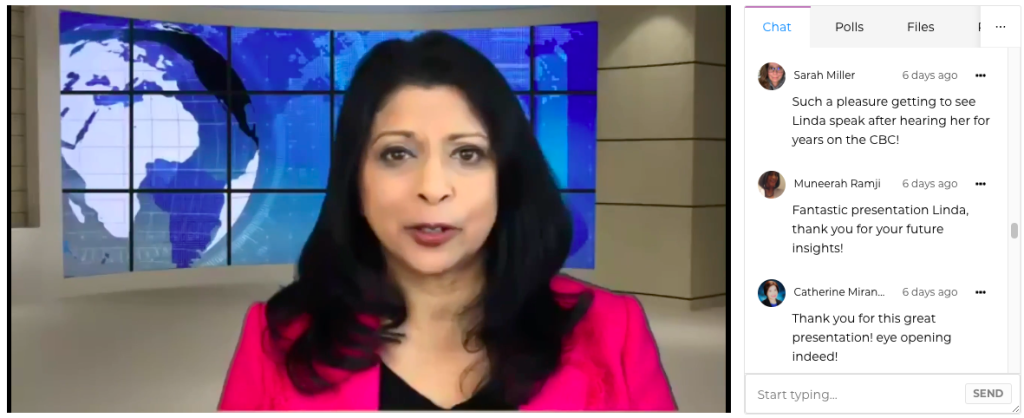 View this post on Instagram
Canada is a nation of immigrants. Newcomers enrich our country with their talents and diversity and drive economic growth.

We are proud to sponsor the #Cannexus closing keynote. @TareqHadhad shares his inspiring journey, demonstrating his insights and strength. pic.twitter.com/tMvuwsJHNC

— Future Skills Centre (@fsc_ccf_en) January 25, 2023
In the plenary hall, we also had the opportunity to take in a powerful and entertaining SPARK! presentation from Global Inclusion & Resilience Speaker Joze Piranian. And Lynne Bezanson, Executive Director Emeritus of the Canadian Career Development Foundation (CCDF), was presented with the Etta St. John Wileman Award in recognition of her remarkable career.
What an inspiration @JozePiranian ! Thanks for sharing your journey of overcoming your visible stutter to enable others to face their inner stutters, fears hidden but present 👏🏼 pic.twitter.com/JOdz2veE9M

— Career Talks | Campus Recruitment | Partnerships (@Arfa__Dar) January 24, 2023
Congratulations to @LynneBezanson who was announced as the recipient of the Wileman Award last year and received her award in-person at #Cannexus today. Lynne was recognized for a remarkable career, devoting herself to #careerdevelopment in Canada and internationally. pic.twitter.com/5Bdt6iMnGK

— cannexus (@cannexus) January 24, 2023
---
Future Skills @Cannexus
For the first time ever, Cannexus joined forces with Future Skills Centre to deliver a half-day stream of programming as part of the in-person conference. Future Skills showcased a varied program highlighting a vision for career guidance in Canada and delving deep into future trends and initiatives.
Grateful to have had the opportunity to represent @D2L yesterday at the @fsc_ccf_en's program at @cannexus, sharing insights from our research on the challenges #SMEs face in enabling upskilling at scale, and where there are opportunities to move the dial https://t.co/LZJfCd3RWH https://t.co/HVZow7SqQU

— Malika Asthana (she/her) (@MalikaAsthana) January 26, 2023
Our second panel explores how innovation and collaboration is showing up in new programs and models that can advance #CareerDevelopment services.
With Amie Haughn & Kimberly White @NS_LabourSkills, Trina Stanford @CCDFFCDC, Tannis Goddard @mixtmode#Cannexus pic.twitter.com/NlrAYqsvhs

— Future Skills Centre (@fsc_ccf_en) January 25, 2023
"It leads to a unified voice, and deeper understanding of why it's important to invest in career development services" – @CanceHo

One of the pillars of the CDP Centre, is building evidence-based practices and using data to guide standards of the industry #Cannexus23 pic.twitter.com/Sk7jyU8IZ2

— Blueprint (@Blueprint_ADE) January 25, 2023
---
Until next year
Thank you to the thousands of people who joined us for Cannexus23. We are so grateful for this community!
Looking to join in next year? Sign up for CERIC updates to receive the call for presenter proposals for Cannexus24 (launching this spring) and to be notified when registration opens. Can't wait to see you there!
And that's how the #Cannexus23 conference ends!

Thank you @cannexus for having us, we have learned a lot and are ready to apply these new tools to our employers and interns. pic.twitter.com/C4ZMiLTjjH

— Career Launcher/Lancement de carrière (@CareersToLaunch) January 25, 2023
Bumpy ride, but we thread the storm needle and made it home… thanks @ceric_ca #Cannexus23 for making 3 days away fully worth it. Very energizing to be part of this #CareerDevelopment movement for #decentwork… pic.twitter.com/P8wDaRtHH0

— Pedro Barata (@pedrobarataTO) January 26, 2023
Tags :
featured
podium