Reading Time:
3
minutes
When Zain Zaidi did an internship in the Fraser Valley in British Columbia, he got the chance to see firsthand what Sustainable Development Goal 8 – Decent Work and Economic Growth – means for newcomers to Canada.
The Sustainable Development Goals (SDGs) are 17 actionable items that make up the United Nations' 2030 Agenda. They are a global call to action for countries to work together to solve issues that affect us all – like poverty, hunger, inequality and climate change – while planning for a long-term equitable, peaceful and prosperous future.
SDG 8 challenges us to act in a way that promotes inclusive and sustainable economic growth, full and productive employment, and decent work for all. Zain's internship through the Career Launcher program gave him an opportunity to contribute to this goal.
Empowering students and recent graduates to act on pressing social issues
Zain first heard of Career Launcher through a professor. Funded by the Government of Canada, Career Launcher gives jobseekers access to training and meaningful employment, and employers access to subsidies for training and salary costs. Interns get paid while making a meaningful impact in their communities.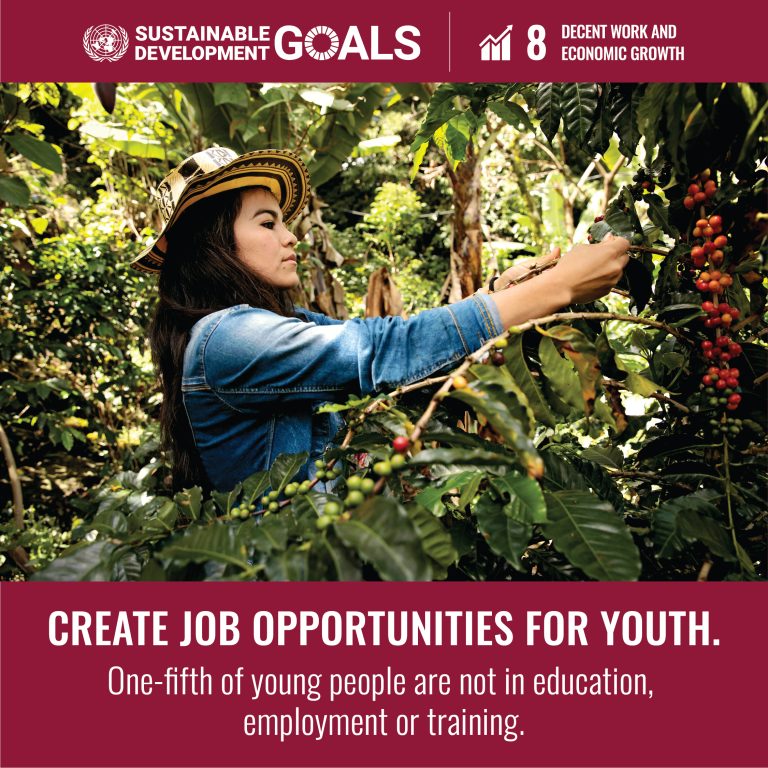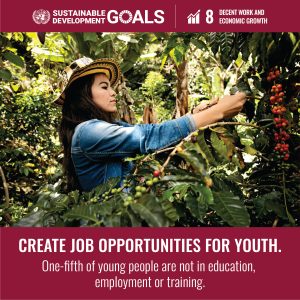 For Zain, the opportunity came through Career Launcher's ImpAct Internships stream, which focuses on work opportunities that contribute to Canada's 2030 SDG Agenda. As a Refugee and Immigrant Research and Community Engagement Specialist at University of the Fraser Valley, he took part in a research project interviewing nearly 40 refugees and newcomers to the Fraser Valley. He was also pleased to note most of his team consisted of persons of colour as well as women. This demonstrated to Zain that diversity, equality and inclusion was a priority for the team.
This research will enable residents of the Valley to learn more about the newcomers' experiences. The research will also help identify the types of services that could better support newcomers to the area, which differ from larger urban areas like Vancouver. Zain said the research he conducted with colleagues was showcased at an event last fall where community members were able to attend and learn about the project. He notes the importance of research given that little work is done in small communities regarding newcomers.
He mentions, "People tend to forget that many newcomers settle in small towns like the Fraser Valley. As a result, this research has enabled city residents to learn more about the newcomers, their stories, how they are settling and their situation."
Gaining new skills in the workplace 
Zain's experience is a success story. Just a week after completing his internship, Zain secured a job with one of Canada's largest non-profit settlement organizations, where he can serve immigrants, refugees, migrants and communities in Greater Vancouver and the Fraser Valley.
He says, "Throughout my internship, I was able to make the jump from academics to a professional career."
Networking, consideration, empathy and working collaboratively are just a few of the many skills Zain learned throughout this internship. While aware of his position, Zain was able to channel these new skills and connect with newcomers. Responding to newcomers with compassion created an atmosphere conducive to learning, collaboration and innovation. People connect better with others when they take care of themselves. Safe work environments are enhanced by showing compassion for one another. Zain notes how important it is to have these skills when interviewing newcomers, as he made sure to be sensitive when approaching newcomers with topics that could be traumatic and or triggering.
This experience allowed him to come out of his shell and connect with refugees and newcomers to his community.
A sustainable future is one where no one is left behind
By using the Sustainable Development Goals as a framework, we have the opportunity to work together toward a common goal, to learn from each other and maximize our contributions to positive change. The beauty of the SDGs is that everyone can contribute, and every contribution, big or small, will have an impact on our world. The SDGs represent a major opportunity for companies to shape, drive, communicate and report on their strategies, objectives and activities, enabling them to capitalize on a range of benefits. Just like with Zain, not only was he able to impact his daily life, but also the community as a whole.
Tags :
featured
podium