When delivering women-centred leadership programs, Strategic Career Management's philosophy is that a three-pronged approach to career development needs to be pursued:
Women should continue to engage in professional and personal development and targeting advancement roles
Structural organizational systems need to be audited to ensure that they support women to succeed (e.g. parental leave, flexible process, personal and psychological safety, etc.)
Cultural systems where positive behaviours are not only expected but encouraged must be in place. This may be anything from moving networking opportunities off the golf course and out of the bar, to creating expansive/inclusive cultures that ensure all members of an organization are free to contribute fully.
The effective advancement of women in leadership within organizations requires a whole-of-organization approach to identifying structural barriers to women's* success, understanding the different challenges that women might face within an organization and making commitments to creating inclusive cultures.
Without effective safety and cultural supports within communities and organizations, women will continue to suffer stalled progress.
This article will address the building of cultural systems, with a particular emphasis on the need to provide tools to support cultural change as well as the important role allies/champions can play in progressing intersectional and gender safety and inclusion to advance women's career development.
Building individual skills
Our leadership development program uses a two-pronged approach. The first part of the program assists our diverse group of women to identify and develop their authentic leadership approach. Rather than accepting organizational cultural norms, we encourage participants, through a range of assessments, interactive and reflective exercises, and group coaching, to identify their own values, strengths and motivations. Incorporating a voice and presence coach helps participants to develop a clear communication style that aligns with these new insights. The focus is on bringing their whole self into their role, which can feel risky and courageous.  They can practise and build confidence before using these new skills in the "real world."
"Without effective safety and cultural supports within communities and organizations, women will continue to suffer stalled progress."
Anyone who has attended training programs may remember feeling inspired to bring their new learning back to the workplace – only to be met with suspicion and/or rejection when trying to introduce changes. This can happen in workplaces where cultural and behavioural norms persist and may be challenged by these new insights. After all, not everyone has been privy to the insights obtained at the training session!
To counter this potential barrier to success, we offer an additional element to our leadership program – bringing allies on board.
Training the support crew
We asked participants to identify and invite a workplace ally to attend a separate Ally Workshop.
This is a new approach and we faced some interesting and unexpected challenges:
Lack of awareness (from both allies and participants) of what allyship is and involves
Difficulty for participants in identifying a suitable candidate within their workplace
Participants' fear of approaching a candidate and how this might be perceived as a negative judgment (e.g. 'you're not good enough and you need improvement' responses)
We mitigated these issues though an encouraging and inviting intra-company communication strategy that educated participants and nominees about the different levels of allyship and how to identify a suitable candidate.
The Ally Workshop was delivered mid-way through the women's leadership program, helping them to understand the purpose and outcomes of the program. We then led an educative session on the nature, risks, challenges and benefits of allyship in the workplace.
The ally workshop focused on:
Understanding the role of allies in inclusion
Considering alternative viewpoints
Effective interventions – bystander vs upstander behaviours
Commitments to change
Building a cross-organizational network of allies for support and learning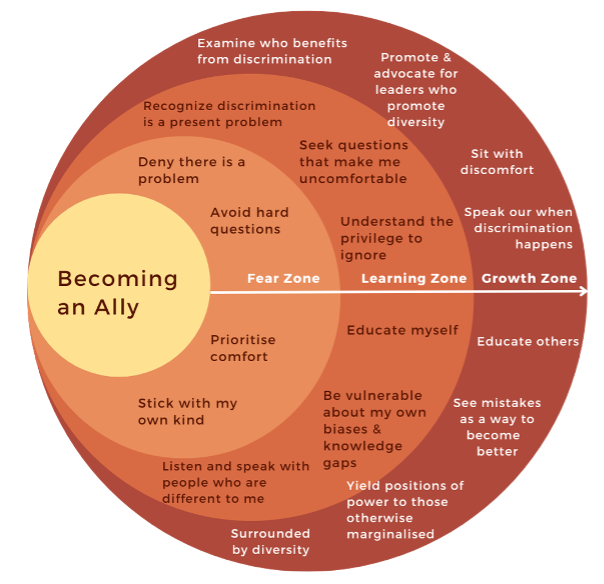 There were a mix of male/female allies in the program. This mix ensured the discussions around inclusion extended into intersectional inclusion strategies.
Program impact
The benefits that participants reported included:
Allies reaching out to their nominator to share insights and engage in curious inquiry;
Allies returning to their workplace and initiating new conversations, advocating for their co-workers and engaging with senior management to discuss and action their new learnings;
Allies facilitating opportunities for their nominator to share insights from their intersectional/gender perspective. One of these meetings resulted in instant adoption of key cultural changes;
Participants reported feeling more supported within their workplace and demonstrated increased confidence in actioning the strategies that they had learned in the program with a sense of safety;
Female allies reported insights into their own unconscious biases and made commitments to continue to grow and engage with curiosity.
Results demonstrated that this increased connection, engagement and trust allowed organizations of all sizes to have new and more informed conversations around equity, diversity and inclusion.
Challenging our biases
The biggest hurdle to inclusion programs and cultural expansion within organizations is a view of inclusion as "making space for" the "other." However, it is always initiated from the stance of the dominant, existing organizational culture.
True allyship requires us to challenge our conscious and unconscious biases and try to understand those of others. Anaïs Nin hit the nail on the head when she said, "We don't see things as they are. We see things as we are."
To be effective allies, we ALL need to:
Build our curiosity muscle – ask questions and observe
Check our own defences
Identify and challenge our assumptions
Understand where we're at in the process and acknowledge this
Participate courageously in conversations
It requires us to place ourselves in the view of the other utilising a 'curiosity framework' of observation, curiosity and deep listening with a view to developing understanding.
What do they think?
What do they hear?
What do they see?
What do they feel?
Is it the same as me?
If not, what do I need to do next?
Allyship is only one element of a truly expansive/inclusive organization, which needs to be targeted from a range of levels: structural equity, a culture of inclusion and creation of safety
Our experience demonstrates that consciously including (and empowering) allies, and inviting a partnering approach in the advancement of women, reaps rewards for individuals and organizations. It creates an environment where women can be brave and authentic, and allies take action to be more inclusive and demonstrate curiosity about the experiences of others.
To achieve this, there is work to be done. It's uncomfortable for those accustomed to upholding the dominant culture, but then, it's always been uncomfortable for those whose identities haven't been represented or included.
Now, it's your turn! Are you curious and courageous?
Tags :
featured
podium