Reading Time:
4
minutes
The socioeconomic impacts of the COVID-19 pandemic have been felt disproportionately among certain groups. Young people in particular have been affected. In 2020, they accounted for nearly a quarter of all job losses nationwide (Sharp, 2020).
Higher education usually leads to higher rates of employment, higher earning potential, and improved health and well-being (Rae, 2018). But when compared with their Canadian-born peers, immigrant and refugee youth in Canada have historically been more likely to be unemployed and more likely to be found in low-skilled, low-wage work (Shields and Lujan, 2018; Turcotte, 2019).
Economic inclusion of immigrant and refugee youth is increasingly vital to Canada's well-being. In a time of growing labour shortages and an aging workforce, immigrant and refugee youth can help to meet some of the country's labour force needs.
Moreover, as immigration targets rise, greater numbers of immigrant and refugee youth will be calling Canada home. Nearly 11% of the recent immigrants from 2016 to 2021 were youth and young adults (Statistics Canada, 2022). Educators, service providers, employers and other stakeholders working to support immigrant and refugee youth can all play a role in setting them up for success to achieve more prosperous and stable employment outcomes. Ultimately, their success and development will benefit Canada's workforce and economy for years to come.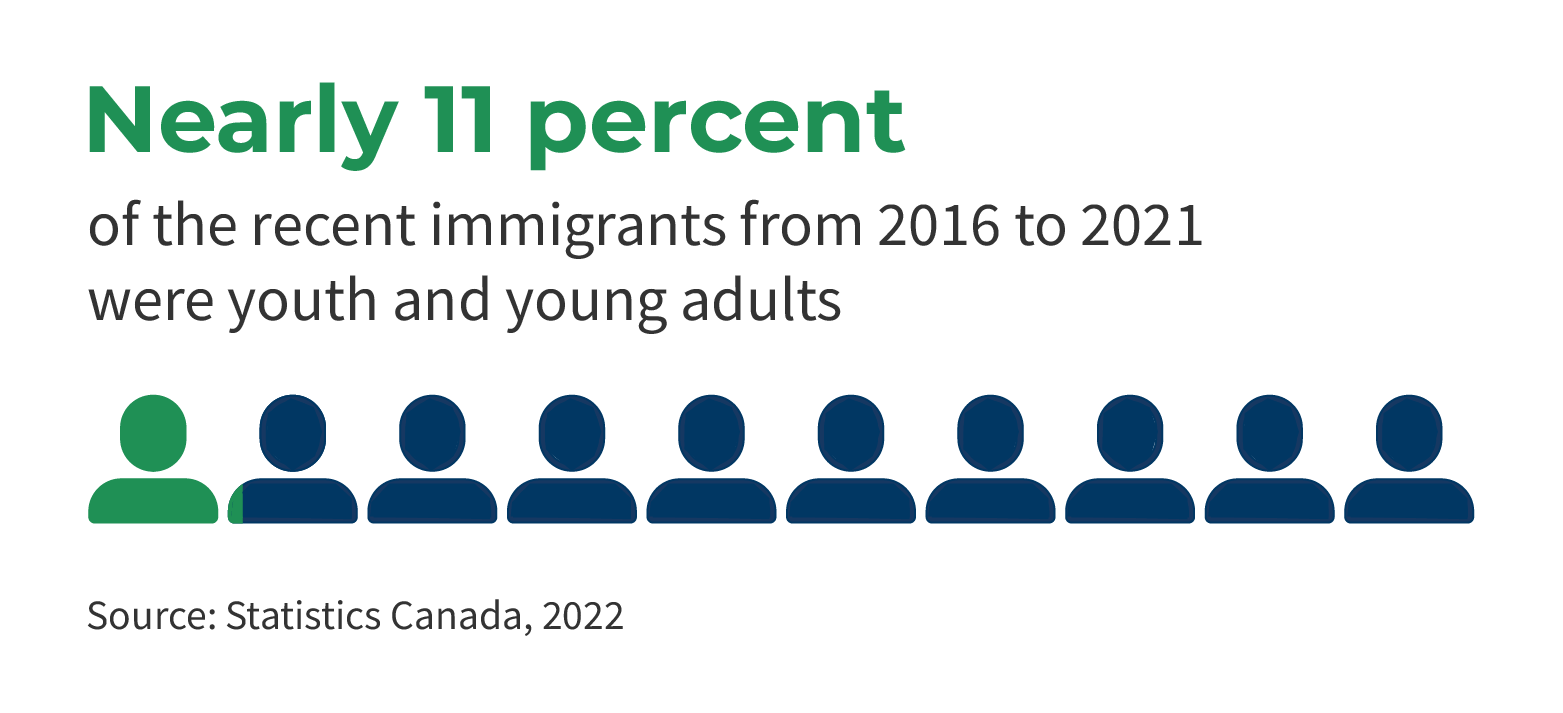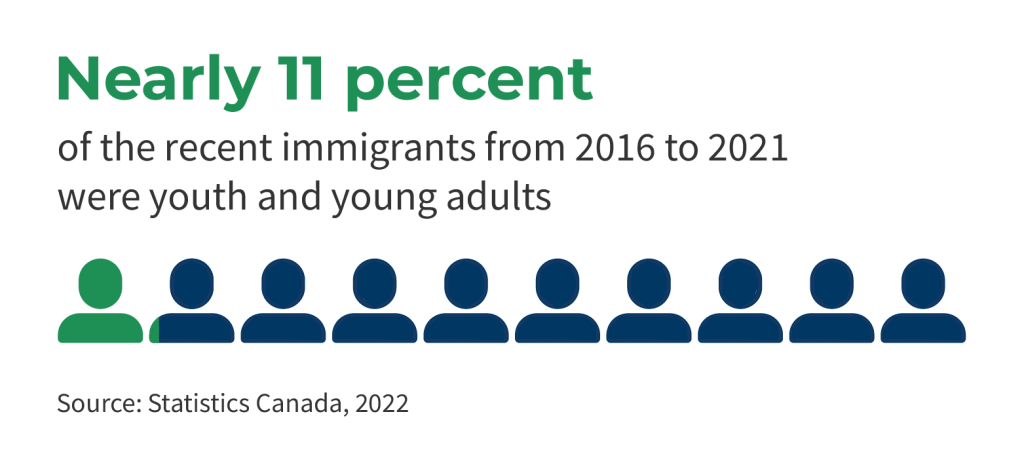 Here are three ways that those working with immigrant and refugee youth can support their sustained labour market inclusion:
1. Foster social capital development by creating opportunities for youth to expand their networks
Social capital refers to how an individual's social connections, including their friends and communities, function as resources. These resources can be converted into other social benefits such as better health, enhanced education and greater employment opportunities (Evra and Kazemipur, 2019).
Whether they are recent immigrants themselves or the children of immigrant parents, immigrant and refugee youth typically lack the broad social capital that could help bridge their transition into the labour force. Their social capital may be limited by a range of factors, including the age at which they arrived in Canada, location of settlement (urban vs. rural community) and their immigration class (for example, whether they arrived as economic migrants, as refugees or via family reunification programs).
Immigrant and refugee youth often rely on informal networks for a range of assistance such as help in securing their first jobs in Canada (Lauer et al., 2012). In many cases, these networks, while supportive, have limited connections to broader social alignment that could help youth navigate the path to job opportunities and economic inclusion more successfully.
Yet, immigrant and refugee youth often demonstrate considerable perseverance and resilience when faced with adversity. Removing or reducing barriers to employment is a first step toward helping immigrant and refugee youth successfully navigate the labour market. This starts with connecting youth to networks and opportunities that can help them develop new forms of social capital.
2. Provide opportunities to develop workplace skills and compensate youth
Career development starts early. Exploring occupations and sectors through internships, co-operative placements and other practical opportunities can complement academic studies and helps to build relevant job skills. For many immigrant and refugee youth, this exposure opens up a world of possibilities for employment and educational pathways.
"… immigrant and refugee youth often demonstrate considerable perseverance and resilience when faced with adversity."
However, unpaid placements can be a barrier. Many immigrant and refugee youth lack the means to work without compensation. The demands that low-paying internships place on older immigrant and refugee youth may stall their career progression as they settle in Canada. Providing paid opportunities offers youth a level of financial security while they experience the workplace and develop job skills. It also acknowledges the unique value of their contributions.
3. Engage with immigrant and refugee youth directly to hear their lived experience and what they need to succeed
Not all immigrant and refugee youth have the same experiences and settlement journeys. Indeed, immigrant and refugee youth bring with them unique value and perspectives. Working together with youth and hearing from them directly is key as they establish themselves in their careers and progress through the early years of work. Educators, service providers and additional stakeholders can learn from their lived experience and knowledge about their own needs and aspirations.
Co-creating solutions with youth is powerful. When asked at a recent series of workshops about challenges to their sustained labour market inclusion, the immigrant and refugee youth WES engaged with were brimming with ideas. Their recommendations included paid opportunities, government subsidies to support the hiring of immigrant and refugee youth, and social media outreach via platforms including Instagram and TikTok to better interact with and engage youth. Other comments included the desire to see greater representation of Black, Indigenous and People of Colour (BIPOC) on staff in the workplace so that youth could see themselves in different occupations.
Such co-creation exercises also offer opportunities for youth to acquire valuable experience by being part of the process. These spaces also provide opportunities for youth to begin to develop social capital outside of their home communities. It's important to note that such benefits are two-way: organizers who draw on the insights of immigrant youth must compensate them appropriately for their time, insight and contributions.
Evidence shows that the talents of immigrant and refugee youth in Canada are not being fully utilized, to the detriment of these individuals and our economy. Concerted efforts can affect change – especially those that incorporate the insights of immigrant and refugee youth directly.
---
Learn more: A new report from WES, Going the Distance: Immigrant Youth in Canada's Labour Market, examines the disconnect between high rates of academic success and the systemic challenges that often block immigrant and refugee youth from obtaining good jobs and launching sustainable careers.
Tags :
cannexus23
featured
podium