Reading Time:
5
minutes
Can you imagine what Canada would look like if the entire country shifted its purchasing power to include social procurement?
Across all sectors. Communities. Businesses.
Several years ago, when the government announced it would invest $180 billion in infrastructure enhancements over a 12-year period, Infrastructure Canada followed up with a Community Employment Benefits commitment. The requirement sought all major projects to "provide training, job opportunities and/or procurement opportunities to groups that are identified as under-represented in the workforce or that face challenges to entering the workforce," as outlined in a report by Buy Social Canada, a non-profit that brings together socially driven purchasers and social enterprise suppliers. So, instead of taking that $180 million investment as profit, the organization put a portion of it back into local communities.
But what exactly is social procurement? According to Buy Social Canada, it is a practice of procuring products and services from organizations that make a direct and positive contribution to the environment, local economy and society. Social procurement comes in different forms, such as choosing to work with sustainable suppliers, making purchases from social enterprises and hiring employees from within the local community.
Social procurement in action
When Chandos Construction, the largest and first B Corp-certified national technical builder in North America, saw the effects of social procurement first hand, it implemented the practice into its operations. In 2020, it committed to shift at least 5% of its addressable spend to social enterprises; diverse businesses such as small businesses, Indigenous-led companies and women-owned organizations; and other impact organizations by 2025.
Chandos Construction also increased its focus on inclusive hiring. Knowing that there were untapped sources of talent everywhere, we teamed up with various social enterprises – like Embers in Vancouver – to help people facing barriers to employment land jobs. For instance, through Embers, Chandos was introduced to Dustin Zinter, a former tradesman and business-owner, who had a five-year gap in his employment history.
"Several years ago, an incident occurred in my life that really set me back," Zinter said. "The only way to come back to the workforce was through Embers and I took that as an opportunity. I went to four different job sites at different companies. I came here [to Chandos], put my best foot forward, worked hard, followed direction, applied my experience, and that brought me to where I am today."
Where he is today is at the Applied Sciences Building at Simon Fraser University, working as a full-time general foreman.
"I don't know what else I would do with my life. I like doing this work, and always have. I've been tearing things apart since I was six years old and putting them back together," Zinter said.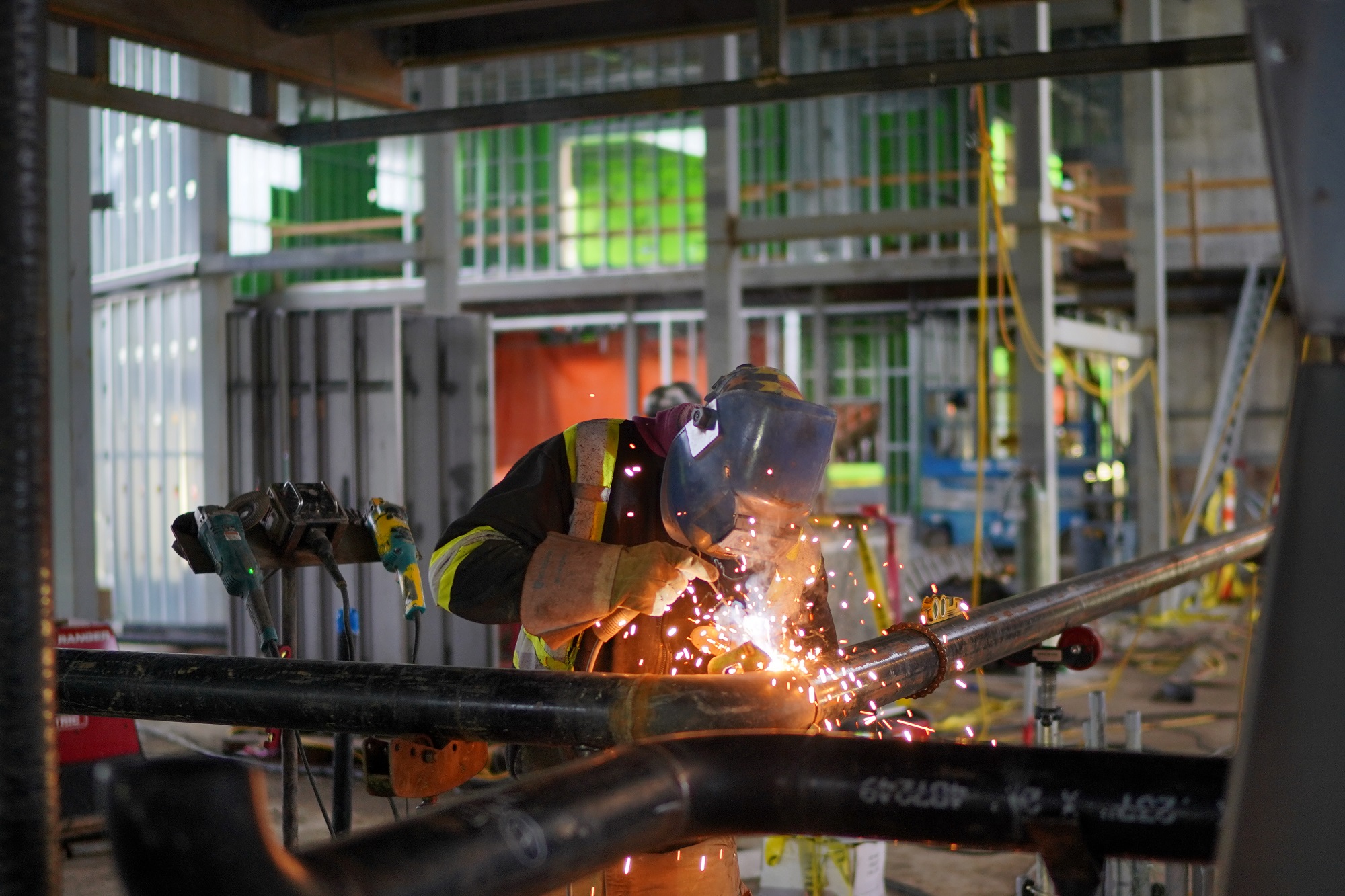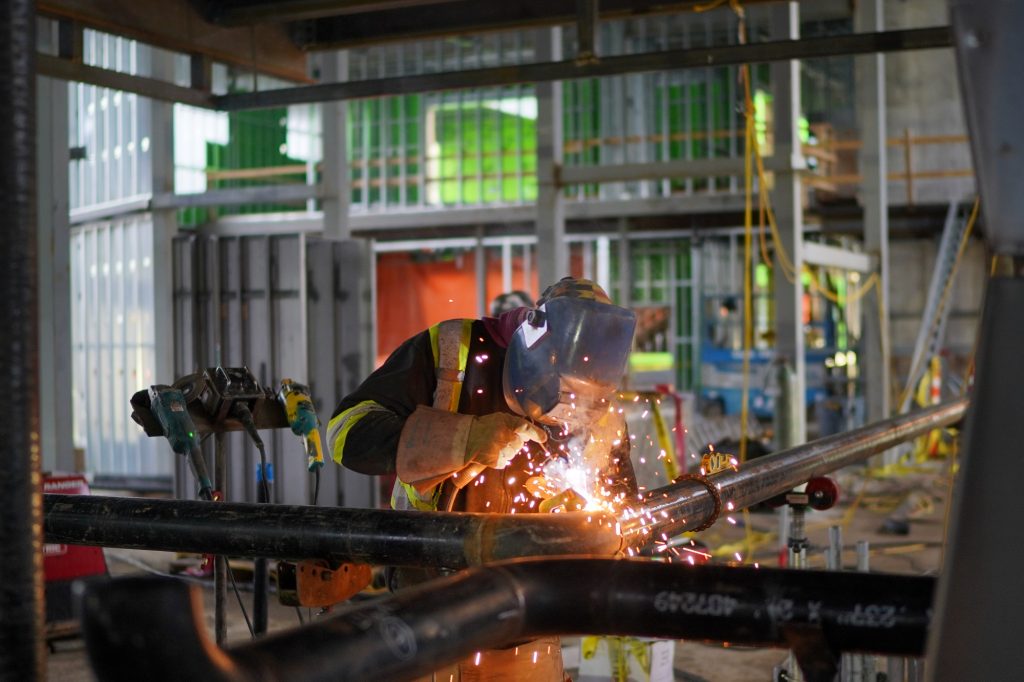 Benefits and challenges of temporary employment
Embers is a temporary employment agency. It provides support to individuals facing barriers to work – including those related to language, housing, education and mental health – pairs them with appropriate companies and connects them to jobs.
Chandos has been a partner with Embers for several years and together, they've worked on a variety of different projects in the Vancouver area.
Embers offers support in the form of training programs, counselling for addiction and mental health, boots and equipment for construction-related roles, transportation services, and emergency loans and pay advances. Nozick said that approximately 50-60% of employees move on from Embers and secure full-time employment.
"Our goal is to get people back on their feet. To give them a hand up," said Marcia Nozick, Embers' founder and CEO. "And to do that, we get them the support and training they need to move ahead."
Every year, 2,500 people go through Embers' employment programs. They can earn anywhere from $18 to $35 an hour, plus vacation and medical benefits.
"I like doing this work, and always have. I've been tearing things apart since I was six years old and putting them back together." – Dustin Zinter, general foreman 
Program participant Zinter says that temporary employment doesn't work for everyone, and that it's up to the individual to pursue and want job security. Some people "lose the opportunity and motivation. [They forget that slow and steady is what wins the race."
Zinter advises program participants to make the best of the opportunities they are offered. "The challenge is almost always within yourself. When you overcome those challenges, you can overcome the challenges around you."
Nozick admits that the model of temporary employment can be seen as exploitive because of high rates of turnover. However, she explains that Embers took that approach because it gives people flexibility and allows those who are in different stages of life to still move forward toward their goals.
Zinter adds that Embers can be a valuable commodity for companies, but a lot of things need to fall into place to make it successful.
"You need companies who are willing to give the opportunity to the people. And then you need management who understands the position that potential employee is coming from. And then you need that employee to acclimate to the program that the company is offering," he said.
Why community hiring matters
The Social Value Business Guide, authored by Coro Strandberg, thought leader on social, environmental and financial progress, outlines that "community hiring is a deliberate human resource strategy to fill job positions by hiring people from groups who face employment barriers."
Strandberg shows that along with advantages to communities and the individuals themselves that come from practices like social procurement – particularly the practice of inclusive hiring – there are also business benefits including: cost savings in recruitment; a more productive workforce; a reduced turnover rate; improvement in brand reputation; access to talent in a tight labour market; and access to potential wage subsidies.
"It might cost a little extra, require patience and time, but it's been a huge bonus for so many people – hundreds and hundreds – that we've employed just through Chandos alone," Nozick said.
Strandberg's report shares that partnering with a government-funded employment service agency is another effective way to find talent, and even "target specific disadvantaged groups."
It also features concrete steps companies can follow to implement inclusive hiring, including:
Appointing a human resource champion to lead the initiative
Identifying suitable positions that don't require much technical skill or prior experience
Researching and contacting an appropriate organization to help find a suitable job match
'Imagine the transformative effects'
What can happen if governments, industries and businesses include a social aspect in procurement?
Buy Social Canada notes that Canada's federal government spends $18-20 billion per year procuring goods and services. "That is a tremendous amount of purchasing power we can leverage to create more value for society while still creating economic value," the organization said.
"Imagine the transformative effects on communities if even a small percentage of this spending was directed toward social procurement."
So, the next time your organization is looking to hire new talent, partner with suppliers or make a purchase, will social procurement be part of the selection criteria?
Tags :
featured
podium