Career services professionals work in many sectors, including post-secondary education and the non-profit sector. However, we can tend to fall into silos and forget to look to other sectors for ideas and best practices.
For instance, in universities and colleges, career advisors specifically support students and alumni, while in the non-profit sector, employment counsellors can serve a variety of people in the community such as newcomers, long-term jobseekers and people facing significant barriers to employment. There are a lot of similarities in the daily challenges and opportunities we face in our roles. So, how can we learn from each other? What best practices exist in each sector that we can apply to our own workplaces?
Based on our joint experiences across these sectors, we seek to outline examples of partnerships and benefits career professionals can gain by building connections with people who are approaching career development from another lens.
---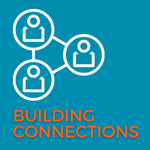 This article is the first in a six-part series running on CareerWise this fall on the theme of "Building Connections." Career development takes place in many spaces and from many different perspectives, encompassing K-12 and post-secondary education, community agencies, governmental institutions, employers, workforce development and much more. However, this work is often done in silos – missing key opportunities to learn from one another, support people accessing services and advance career development in Canada. Over the next few months, this series will share articles from people working in career development on how they build cross-sector collaboration in their work – and how you can too. 
---
Examples of cross-sector collaborations
Post-secondary education (PSE) actively supports a wide range of learners – from students entering PSE right after high school to adult learners looking to access graduate education or professional development. Designing, delivering and evaluating career education programs are unique strengths for PSE. Many of these programs tend to collaborate with stakeholders within the institution, but there are several great examples of cross-sector collaborations that have enhanced the experience of participants.
A notable example of broad cross-sector collaboration is the City of Edmonton working with 60 post-secondary schools and employers to help students gain work experience and reduce employment barriers. Furthermore, a program-specific example is career mentorship and job shadowing programs in post-secondary that enhance the career development experiences of mentors and mentees. As a practitioner or administrator of such programs, if you make an effort to connect with similar programs offered by community partners, you can easily create pipelines of participants and mentors that may not fit one program but could engage in another in your network. This way, all programs work together to mutually benefit participants.
To help students develop leadership skills in the community, the University of Alberta's Non-Profit Board Internship Program through Community Service Learning works with community organizations and pairs students with a non-profit board and mentor in the Edmonton community for the academic year. Such collaborations allow the breakdown of silos and bring together expertise that adds value to learning.
"It's useful to consider what expertise exists outside of your organization that would be useful to you."
Exchanging resources and helping build programming is another great way to connect various sectors in collaboration. The University of Toronto's Experiential Learning Hub is a publicly available post-secondary resource with rich content that is relevant beyond PSE. The Future Skills Centre (FSC) is dedicated to helping Canadians gain the skills they need to thrive in a changing labour market and was founded by a consortium of partners including Ryerson University, Blueprint and the Conference Board of Canada. Their work is an example of how funding and resources can be distributed across a wide range of partners to support career development and employability across Canada. The funding offered by the FSC can have far-reaching impacts on workforce capacity building and has brought together many cross-sectoral partnerships.
Ideas for starting collaborations
When thinking about the kinds of partnerships that can be beneficial for you and your work, it's useful to consider what expertise exists outside of your organization that would be useful to you and the people you provide career services for. For example, within a college or university, some students face additional barriers to finding employment and may require individualized support, such as international students or students with disabilities.
It's quite common in the non-profit sector for an organization to focus on providing career development support to a specific community, and we can look to our colleagues in the non-profit sector for ideas and best practices to apply to our student context. Knowledge sharing between sectors can not only provide learning opportunities for staff but can also help build referral systems between organizations to help students and service users find support more easily.
It's also helpful to consider how partners can learn from each other when creating new programs. Before you begin to create the next new program for your clients, consider which organizations or service providers may already have experience creating something similar. In the career services world, a good example of this is that many post-secondary institutions are creating new micro-credentials to help learners master new skills, whilst many non-profit agencies already run short-term skills-based training. What can be learned from existing programs and how can we connect to ensure new training complements existing programs?
Finally, if the idea of building a new partnership seems all too intimidating, we encourage you to start small. Begin by attending webinars and virtual events where you can meet other career service practitioners outside of your existing network. This will be a simple way of meeting others and learning about their experiences and challenges in their work. You might even come across someone who you can collaborate with in the future or your next mentor! Investing time in meeting new people is a small but effective way to begin to open up the possibilities of new partnerships.
While cross-sector partnerships take time and energy to build, they can often deliver better solutions for clients and reduce duplication of work. The examples we have provided show the value of building connections between post-secondary education and non-profits; however, professionals working in all different areas of career development (e.g. K-12, workforce development, human resources) can benefit from creating partnerships that further their organization's and service users' needs. Wherever you do career development work, consider looking outside your institution for organizations who have the expertise to support common problems your clients or students are facing.
Tags :
building connections
featured
podium