It has been more than a year since we all got to connect with each other face to face. However, it has been interesting to see the creativity and innovation, as well as the amount of information sharing, that has happened within this past year. We have still been able to gather to share ideas and learn from each other across provinces, countries and continents. As these social distancing measures continue to be a reality, we must use this opportunity to share information as much as we can, learn more and grow more as career development professionals – and what better way to do that than through Cannexus.
I had an opportunity to be a presenter for the first time at CERIC's Cannexus21 conference and it was such a great experience. I may still have missed the in-person connections but as someone who does not like Canadian winters, going to Ottawa in January would have an "interesting" experience – so, in some ways, a virtual conference was not a bad idea at all.
When I got the email that my proposal was accepted, I was excited about the prospect of presenting to fellow career development professionals as well as taking part in information sharing – a practice that is essential for professional development and client support. I had to give my presentation in a pre-recorded format. The CERIC team alleviated some of the hesitation I had about the technical side of things by providing an information session to walk me through the process.
The call for presenters for CERIC's Cannexus22 hybrid conference, Jan. 24-26, is open until
June 3
, 2021. Learn more about this virtual and in-person conference and submit your proposal to present at
cannexus.ceric.ca
.
As a first-time presenter and a first-time attendee, I think the Cannexus conference provides a great platform for sharing, learning and growth. In my work with students through the Laurier Career Centre, I am always seeking out new programs and strategies that will have an impact on our students' career development. It was inspiring to see people from different organizations doing so many innovative things to support clients, and especially students, and prepare them for the future of work. It was remarkable to see how diverse and rich the various presentation topics were, which sometimes made it difficult to even choose a session to attend. Some sessions were happening at the same time, and you wished you could have several tabs open (fortunately, all participants have access to session recordings for a full year).
One unique thing I observed about Cannexus was how it brought together not just career development professionals in post-secondary institutions but also faculty, stakeholders, employers and community members who all have a key role to play in the career development journey of students. This may sound trivial to others, but I was super excited to see names of conference attendees that I could instantly recognize as having Ghanaian backgrounds (I am Ghanaian, by the way) as well as presenters and attendees from other African countries.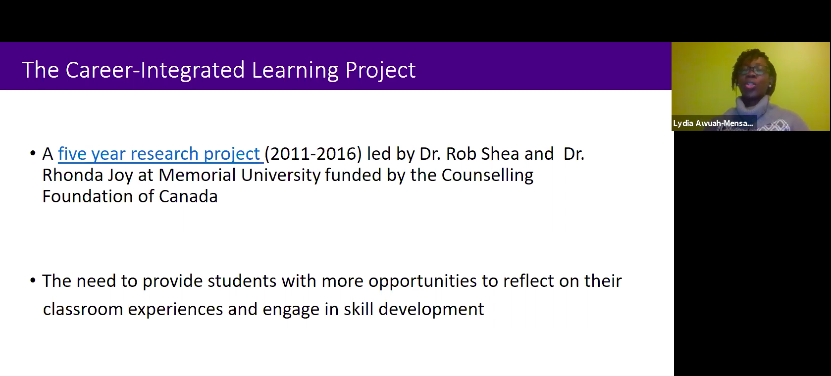 I will say that my Cannexus experience was eye-opening, and I hope to be a part of this experience every year. As someone who is always interested in sharing the work I do with others, this platform created an opportunity for me to do just that. Doing a pre-recorded presentation enhanced my communication, creativity and time management skills, as I had to learn how to speak slowly, take pauses, make eye contact (although there were no eyes to look at), smile at my screen and at the same time watch the clock to make sure I did not exceed the time limit. With a three-year-old at home, I must confess that I had to do a couple of takes before submitting my recording, because the takes that were really going well were interrupted by my daughter and I had to start all over. Based on the emails in my inbox after the session, I was glad to see that my presentation was well received. I got the opportunity to also meet with other career development professionals in different post-secondary institutions who were interested in starting a similar program to the one I presented about. Overall, I was happy to share my research and experience and contribute to the overall Cannexus environment.
As we continue to live through this pandemic and learn new ways of doing and adapting, it will be great to once again gather, share and learn from each other, and the best place to do this will be at Cannexus22. Whether you choose to attend Cannexus next year virtually or in person, take it as a great opportunity to connect and make the best out of it. If there is anything this pandemic has taught us, it is that connection is important and can happen in many forms. Through Cannexus, we can continue to share more, learn more and grow.
Tags :
cannexus
conferences
featured
podium