"You must find a way to get in the way, and get into good trouble, necessary trouble" 
– Congressman and civil rights leader John Lewis (1940 – 2020)
---
The time is now for career professionals to move toward trouble. Three significant world events – COVID-19, the elevation of the Black Lives Matter movement after the killing of George Floyd by a police officer in Minneapolis, MN, and the death of civil rights hero John Lewis –have challenged many people to reflect and consider new ways of engaging in social justice causes.
As we look to a return to normalcy, Washington Post journalist Michele Norris suggests a significantly revised objective. She urges us not to aim for "normal" but rather to reach for "better." We encourage career development professionals across all contexts (e.g., postsecondary institutions, private practice, non-profit, government) to examine what better might look like – and notably how one's actions can help dismantle systems of oppression that continue to disempower people with marginalized identities.
In this blog post, we will call for a sense of urgency around the need for career practitioners to re-instill social justice advocacy principles and action into their practice. Additionally, we use Lewis's mantra of "getting into good trouble" as a framework for career development practitioners to initiate change.
A brief career history lesson
Congressman John Lewis, who died on July 17 at 80, dedicated his entire life to fighting injustices. At an Emory University commencement address in 2014, he pleaded for young people to get involved and to get in the way; it was their moral obligation to speak up and speak out.
"We encourage career development professionals across all contexts … to examine what better might look like."
The career development profession started by progressive pioneers "getting in the way" to support the new immigrants of the early 1900s. More specifically, educators and social workers helped new arrivals find education and occupational options, often by fighting against discrimination and other barriers. Social justice and advocacy efforts continue to serve as central pillars of the career development and counselling professions, based on the early work of Frank Parsons. Just as Parsons and other leaders of the profession fought social inequities to support clients, we echo the calls of John Lewis and implore today's practitioners to get into good trouble by becoming more actively involved in supporting social justice causes.
A confluence of events (e.g. COVID-19, social justice movements and a major US election) pushes us to support our clients and students through actions and collective advocacy, at both the individual and policy levels. Inequities in the workplace around compensation and opportunity exist in Canada and the United States.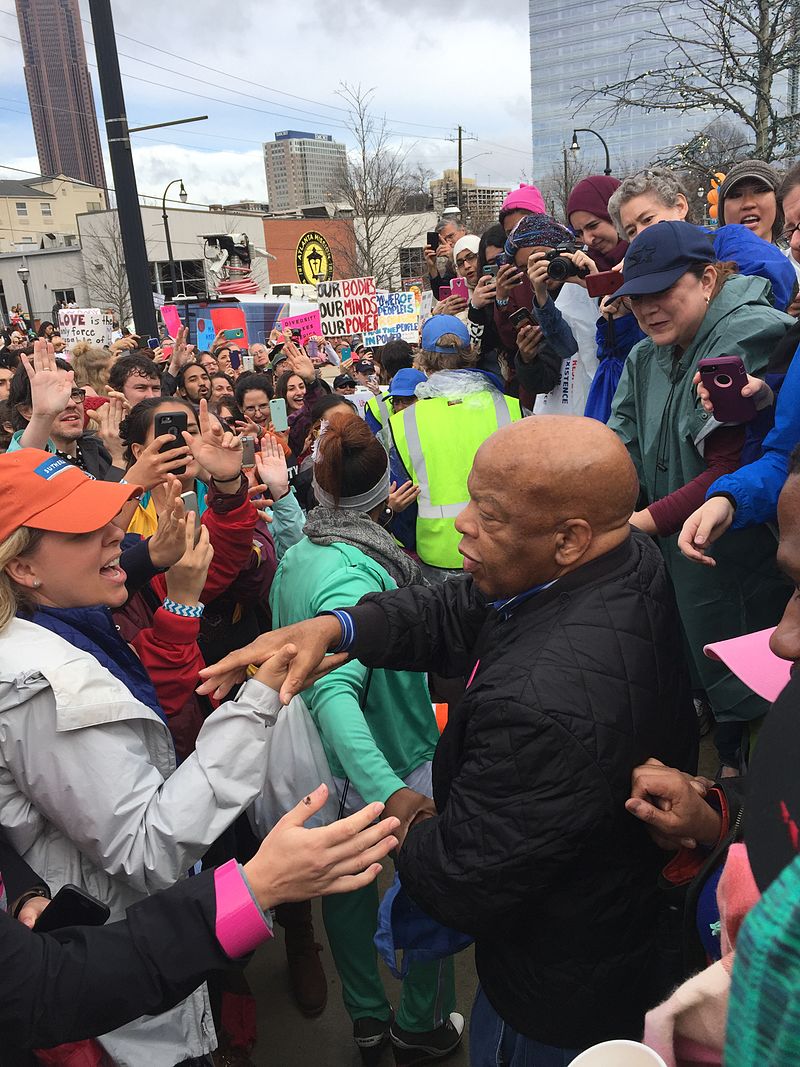 How recent events affect students and young adults
We provide two examples of inequity through North American lenses to demonstrate the need for social justice advocacy efforts. First, the pandemic has affected youth employment, a change that reveals great disparity across populations. According to Statistics Canada, the unemployment rate for young adults increased from 10.3% in February to 29.4% in May. Additionally, recent data in the Financial Post highlighted the uneven proportion of visible minorities affected by job loss, with some groups encountering a job loss rate two times that of white Canadians. Studies report similar disparities in the US. Therefore, career practitioners need to enhance their continued support for young adults and students with marginalized identities during these challenging times.
Inequity can also affect job seekers, whether through access to employment or fairness in treatment and compensation. For example, university graduates with a disability have faced discriminatory attitudes, lower participation rates in management roles, lower income and loss of jobs due to their disability; this is especially true for men with disabilities. We can anticipate that the current and future fallout of the pandemic will exacerbate these disparities across all employment levels. Individually and collectively, career professionals must respond by participating in social advocacy efforts. We offer several recommendations to advance social justice in our current and future work as career practitioners.
Four ways career practitioners can get into 'good trouble, necessary trouble'
1. Use your voice: Raising the awareness of social injustices
This work often creates discomfort: saying what is right is sometimes harder than saying what people want to hear. Remaining silent is no longer an option. We concur with professor Tristram Hooley's argument that career practitioners have a "duty to tell the truth," which may require becoming more political. To support their duty, career professionals need to use their voice to raise the awareness of their social justice values. Efforts must be pursued at the individual, organizational and socio-political levels. The time is now to remind each other about collective responsibility, ask tough questions, share perspectives, and bring forward ideas and arguments that push the social justice agenda forward.
2. Advance professional development: Addressing the training gap 
Career practitioners can enter the field from a variety of educational, professional and training backgrounds. Seek and attain professional development that incorporates social justice principles and pluralism. To support marginalized youth around their career development, practitioners must learn practical skills to incorporate social justice learning into career curriculum and one-on-one interventions. For example, practitioners can infuse inclusive readings and activities into career planning classes and workshops.
3. Collaborate with students: Aligning and supporting activist groups 
When John Lewis was a student, he worked diligently on social justice issues as the chair of the influential Student Nonviolent Coordinating Committee. As current student leaders of clubs, unions and associations prepare for the fall semester, they will likely establish coalitions and take on student activism roles in response to the events of 2020. Career practitioners can collaborate and support by coaching and mentoring student leaders, walking alongside students at demonstrations, signing and distributing petitions, and promoting student initiatives to increase their reach.
4. Get involved in your community: Influencing public policy
Social justice issues are complex and rooted in social economic, and political systems that continue to hold back marginalized populations. Act up. This could mean becoming involved with protests, taking on volunteer opportunities, voting and writing letters to local, regional and national politicians.
Doing the work; making some noise
John Lewis liked to remind his supporters that this work is hard, slow and frequently uncomfortable. It is, however, vital to move one's feet, make some noise and get into good trouble; it must become a mission. We contend that social justice advocacy remains at the core of the career development profession. By initiating actions that promote equity and reaching for better, career practitioners can continue this timely and important journey in their practices, businesses, and university and college settings.
---
Tags :
featured
podium
social justice