Land-based learning takes the classroom out onto the land, creating experiential learning opportunities that focus on practical skills development and transformative understandings of the natural world. This is not a new approach to learning. In an Indigenous context this has been the way of things since time immemorial; it is only with the establishment of modern compulsory education that the classroom has become something separate from the land. In many Indigenous communities across Canada, land-based learning projects aspire to reconnect students with the land, allowing them to acquire the skills of previous generations in an experiential learning environment. If the coronavirus-driven remote learning experiment has taught us anything, it is that immersive and interactive face-to-face learning is essential to a well-rounded education.
In the summer of 2019, Gwich'in high school students from Chief Julius School in Fort McPherson, NWT participated in Ganahghootr'onatan or Place of Learning, a fish camp on the Peel River. The camp was a collaborative undertaking, involving Gwich'in leaders and elders, Chief Julius School and the Faculty of Native Studies at the University of Alberta in Edmonton. The project brought together educators from the community, the school, and the University of Alberta to pilot a 10-day long immersive land-based experience for students.
A blend of learning approaches
This educational opportunity integrated fish camp skills learning with Gwich'in oral history and governance. To achieve these diverse ends, the students had many teachers. Chief Julius school instructor Gladys Alexie taught Gwich'in oral history and elders Joanne Snowshoe and Bernice Francis showed the students how to work with fish. Students participated in all camp activities including setting up and checking nets, hauling water and keeping the camp running.
These activities and the associated teachings aimed to provide the students with traditional skills rooted in the lands and waters of the Peel River region. Day trips provided opportunities to gather traditional medicines or visit important sites in Gwich'in history. Spruce roots and bark were gathered to give students the opportunity to learn traditional basket making. Gwich'in language learning was also incorporated into the camp, to deepen language skills by tying words and understanding to the land-based activities and practices in which they had originated.
The camp also included an introductory university course on land-based learning and Gwich'in governance. Taught by instructors from the University of Alberta, this course aimed to connect the specific teachings and skills students were practicing on the land to larger issues in Indigenous scholarship. The students explored food sovereignty, decolonization, governance and climate change. Student projects provided an opportunity for students to blend their land-based learnings with new skills development in photography, audio recording and podcasting.
Another potential benefit of connecting students to a southern university was to help facilitate the transition of young people in Fort McPherson who may wish to attend post-secondary in other areas. As Elaine Alexie, camp leader and northern community engagement officer with the Faculty of Native Studies noted, "The focus is creating a pathway opportunity for students from that particular region in the North to hopefully go to university."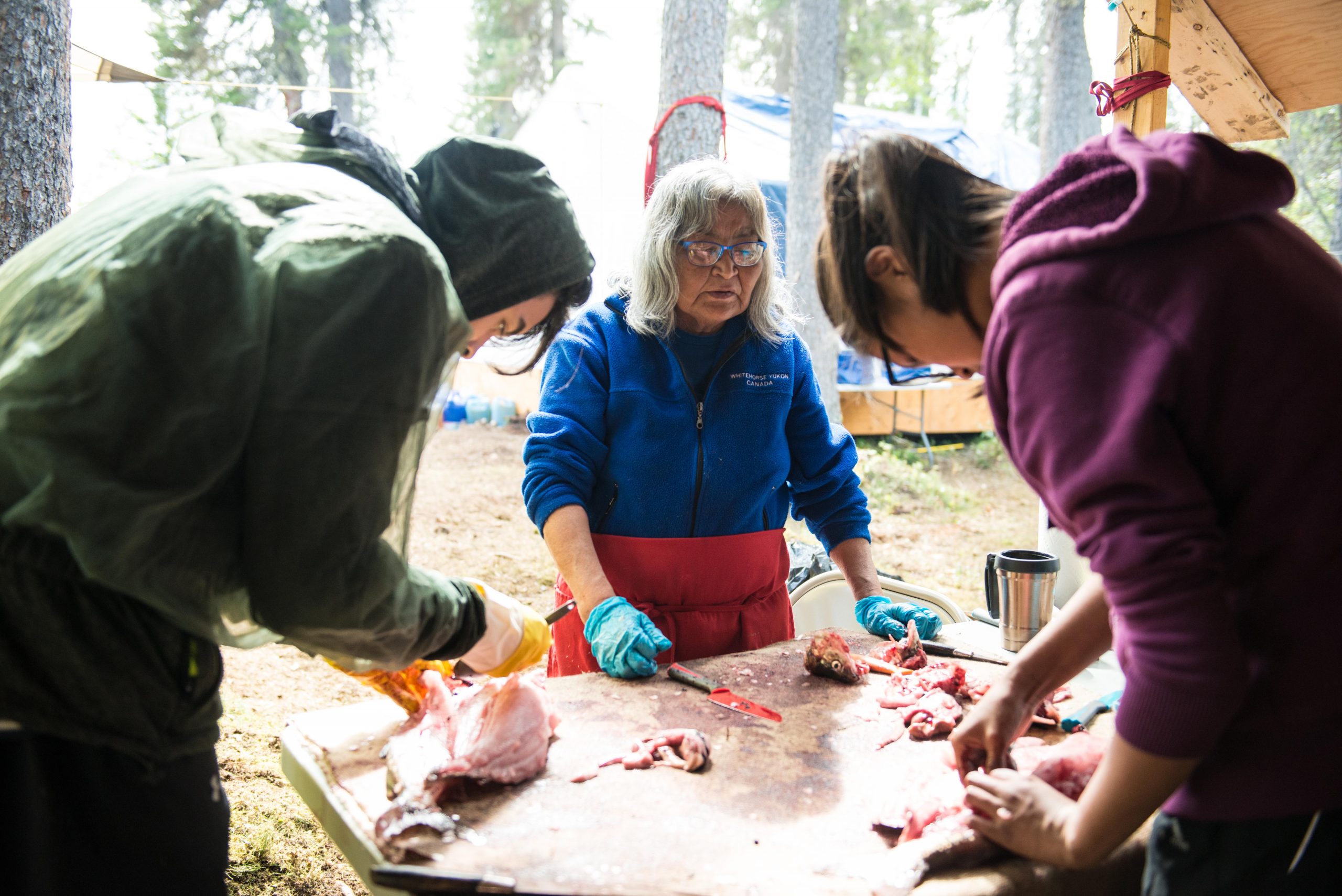 Thriving in unpredictability
Catching, cleaning and smoking whitefish and conies may seem very distant from the expectations of a university classroom. However, at Ganahghootr'onatan, the goal was to use the immersive, unpredictable learning opportunities that invariably arise out on the land to build students' confidence and sense of their own resilience. For instance, when water levels fell so low that rubber boots were at risk of being swallowed up by the mud of the Peel, makeshift jetties had to be built out to the boats. Experiences like those reinforced students' adaptability to a changing world, rooted in the traditional practices and teachings of Gwich'in culture. As one student participant, Kristopher Colin, shared, "It's really hard to be out there, you need to be prepared. But it makes you physically and mentally stronger. Going through 10 days of being challenged every day increases your resilience so much."
Opportunities for growth
The purpose of the pilot was to integrate university-based and land-based learning styles (regular programming is delayed due to the pandemic and will be offered next spring). Where universities often pride themselves in teaching abstract concepts, land-based learning allows for a kind of grounded skills and knowledge learning that is based in immediate experience. Discussions of cultural loss and revitalization are made all the more real and traditional practices are taken up by a new generation. Students build a strong relationship to the land and animals they are engaging with.
Land-based learning is growing more common in Indigenous communities around the country, and as the demand for this kind of immersive education grows, it is only likely to become more popular. While the main challenge is the cost to run land-based programming, its success has led to an increase in funding avenues to run these initiatives.
In many ways, the future of education in Indigenous communities involved land-based learning as a key element. While there will be no shortage of classroom-based options, the potential of learning from the land remains a powerful draw for Indigenous youth in every community.
---
Want the best of CareerWise delivered to your inbox each week? Subscribe to our popular CareerWise Weekly newsletter to receive top news and views in career development every Tuesday.
Tags :
experiential learning
featured
indigenous
podium