Parents have surfaced as the most powerful and influential voice in the career journey for Generation Z, nudging peers and professors off the podium.
This was evident in the findings from the latest Brainstorm Strategy survey of 25,000 Canadian students, presented at the Future Workforce conference in November 2019 by Brainstorm President Graham Donald, Professor Linda Schweitzer and Professor Sean Lyons.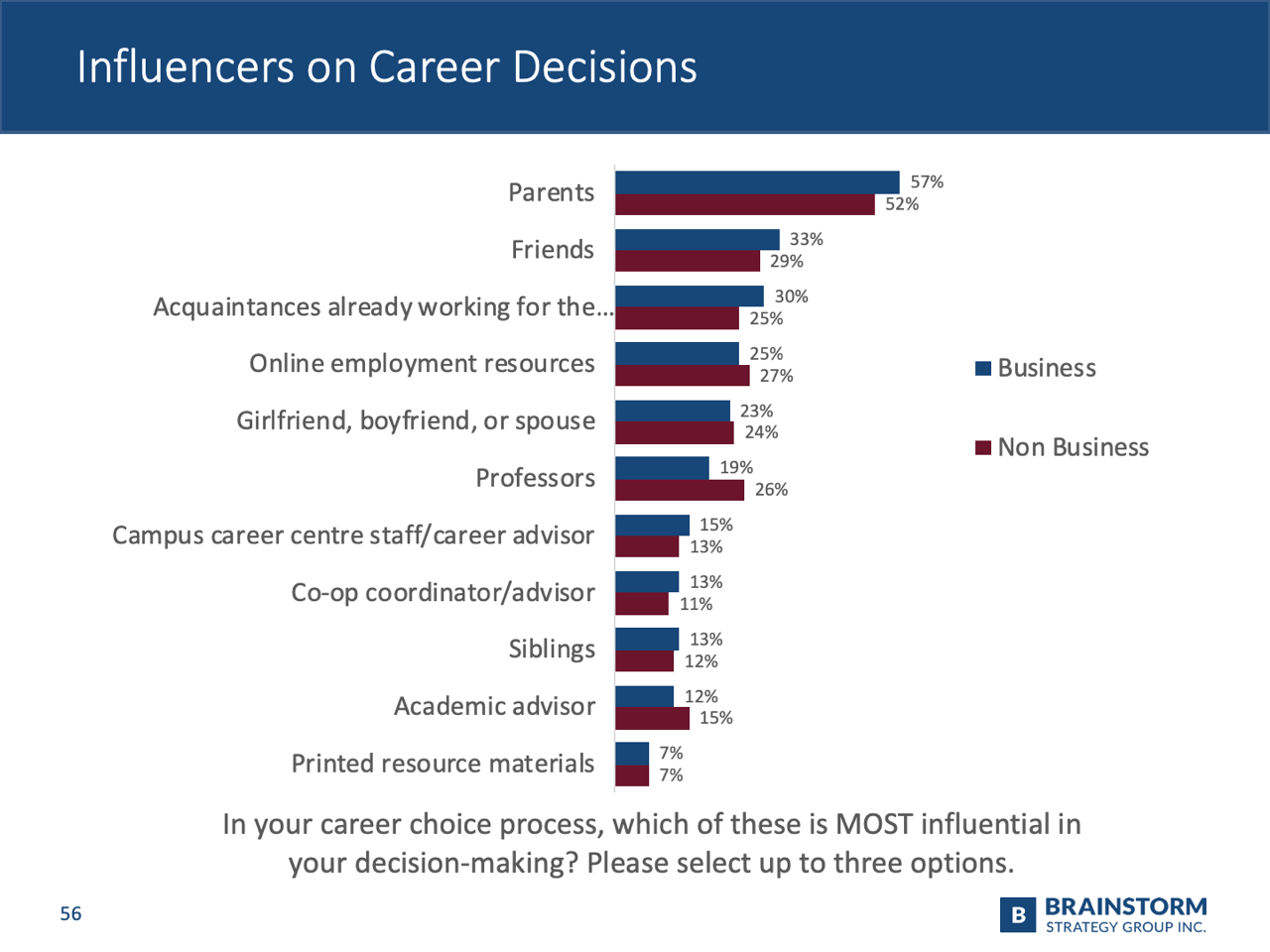 Most young adults today have their fingers on the rapid pulse of technology and how it will affect their longer-term career plans.
Today's parent has a unique challenge in advising their children. The map, rules and advice that served their own career development may no longer be relevant. An informed parent can support their student to be flexible and responsive to changes in the future, but a parent who does not see the ripple effect of new technologies can derail or obstruct a sound career plan.
So, how can career professionals engage parents as partners in supporting well-informed career development paths for young adults?
3 strategies to help parents become effective career advisers:
A career practitioner working with young clients and their families can leverage these tactics to tilt a parent from 'interrupter' into successful 'career influencer' for this crucial age group:
1. Better informed is better prepared
Career professionals should help parents better understand our current employment and education reality.
Technology will affect every profession – even traditionally 'safe' professions such as medicine and law – which shifts how we approach career planning and employment training. For instance, we now see a strong focus on acquiring skills – technical and human skills (also known as employability skills, or 'soft' skills) to complement automated processes, creating opportunities to incorporate arts into the technology-rich STEM fields.
Once parents understand the widespread impact of technological shifts, they can engage in more expansive and exploratory discussions about their children's career pathways. Career professionals can help parents situate their career advice in the future of work context by sharing resources such as:
2. Pivot from 'parent as we were parented'
Even the most engaged and enlightened parent can fall into this trap when they are overwhelmed. Previously, a strong post-secondary education offered lifelong security. The reality of technical advances and a gig mindset means that today's well-educated young adult is continually jobseeking and reskilling.
It is important to separate what no longer serves this new world from generational advice that stands the test of time. Career professionals can encourage parents to step out of dated thinking through:
Ongoing dialogue with their children about career exploration
Shifting deadline-driven conversations on course and class selection to integrating career and education planning into volunteering, summer vacation activities, work experience and daily living.
The latter are the building blocks of those valuable and persistent emotional quotient (EQ) skills. Family stories of grit, resilience and critical thinking show today's teen that some life situations will repeat over history – and that they too have it in their DNA to handle these situations. These stories create the self-confidence and communication skills crucial for success in this new era.
3. Choose words that empower and engage
Words matter. Parents can have an incredible influence on a young person's future by choosing to use words that encourage exploration and empowerment.
What problem do you seek to solve?
What issues really bother you?
What does success mean to you?
Questions framed in an open manner move us from "What do you want to become?" function-driven career paths to a challenge and solution mindset where all our EQ and IQ skills can connect to help us make an impact.
Parents remain a constant influence(r)
By incorporating these strategies, parents can model these perspectives and skills to their children:
Embrace change as a new constant
Always be researching and learning
A long-term perspective allows us to see different options
Conversations and personal connections matter as we go increasingly digital
Any of these simple mindset shifts can leverage the position of parents as powerful partners in their child's career journey.
---
Want the best of CareerWise delivered to your inbox each week? Subscribe to our popular CareerWise Weekly newsletter to receive top news and views in career development every Tuesday.
Tags :
career exploration
featured
future of work
high school
podium