Reading Time:
3
minutes
While the Canadian economy is growing rapidly, we are currently and for the foreseeable future facing a general labour shortage, with close to 40% of small and medium-sized businesses already having difficulty finding new workers. Complicating matters further, "with an average of 16%, Canada ranks among the top countries in terms of employee turnover." Regardless of the complex confluence of conditions that underpin these trends – impacts of disruptive technology, increasingly diverse and mobile workforce, as well as unprecedented retirement and entrepreneurship patterns – such high vacancy and turnover patterns are rife with risk for the skilled and stable labour market our communities need to take part in Canada's robust economic potential.
In this context, to keep pace and thrive in today's so called "Fourth Industrial Revolution," labour market stakeholders – employers, workers and our communities' labour market intermediaries alike – must think differently about how we connect and help underrepresented jobseekers access quality entry-points into the labour market and sustain their momentum along chosen career paths.
An evolving approach to supporting unemployed jobseekers
Over the past two decades, most stakeholders across Ontario's workforce development pipeline have focused on helping unemployed jobseekers "get training, build skills and find a job." With the assumption that 'getting a person's foot in the door' would be sufficient to kickstart a productive career, employment services have built strategies to support the provision and co-ordination of the transferable Essential Skills necessary for jobseekers to gain employment as quickly as possible, with little evidence of further supports beyond the employment entry point.
In more recent years, however, new economic and workforce realities are pointing to an evolving approach: That along the same continuum of skills development necessary to gaining employment, attention and strategic interventions must also be afforded to the development of skills necessary to retaining employment and advancing[i] individuals through the labour market.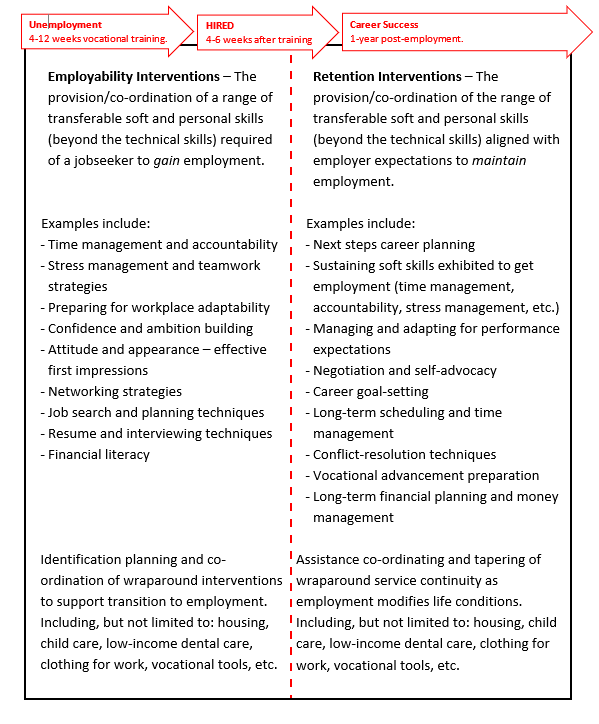 A ReSET for jobseekers and employers
You can learn more about ReSET and soft skills supports when Mandie Abrams of the Hospitality Workers Training Centre and Randy Lindsay of Futureworx present on
"
Soft Skills for Employment Retention: ReSET the Dial(ogue)
"
at CERIC's Cannexus20 conference, taking place in Ottawa from January 27-29, 2020.
The Retention Skills Enhancement Tool (ReSET) is an example of how workforce development intermediaries can help directly support the development of better trained and more resilient labour market competitors who are well-prepared to keep up with business objectives. Developed by the Hospitality Workers Training Centre (HWTC) in partnership with Futureworx, ReSET is an evidence-based approach to pinpointing retention and engagement conditions that can enable well-informed strategic workforce attrition responses.
ReSET is a first-of-its-kind, adaptive online resource, designed to help employers and employees map and develop the core soft skills that are essential for retaining and developing top-skilled talent. ReSET provides an adaptive and objective means of assessing the strength of individual soft skills for retention: motivation, attitude, accountability, time management, stress management, presentation, teamwork, adaptability and confidence against performance expectations and established workplace culture.  ReSET can be used to support individual employee performance management as well as team or departmental unit performance improvements.
ReSET also acts as a guide to establishing interventions that will spur performance improvements and growth though positive employee engagement. ReSET helps employers track the effectiveness of their engagement interventions along five criteria: work conditions, workplace pride, workforce support, growth opportunity, and compensation. ReSET is a safe and constructive platform for employees to share observations and provide feedback on employee engagement priorities in a consistent, respectful, honest and timely manner. The cumulative data collected thorough individual performance and progress tracking can also provide valuable insights into the health of the organization and inform targeted investments in employee engagement activities.
ReSET is currently piloting in Ontario and is projected for publication in late 2020. If you would like to learn more about the ReSET platform, please visit HWTC's website.
[i] Both upward promotions as well as horizontal mobility to more desired positions.
---
Want the best of CareerWise delivered to your inbox each week? Subscribe to our popular CareerWise Weekly newsletter to receive top news and views in career development every Tuesday.
Tags :
job skills
podium
unemployment